Posts Tagged 'paid webinar'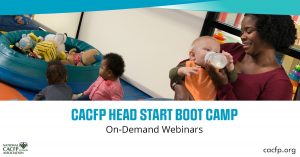 Have you ever received a parent's or doctor's note describing a meal modification or substitution to serve a child in your care? Maybe you
have felt confused or overwhelmed on how to modify the menu to ensure foods are safe to serve to a participant with a disability. Learn about the requirements for having a medical statement to serve safe and reimbursable foods in the CACFP. Identify creditable and non-creditable milk substitutions in the CACFP and understand the documentation needed. Gain valuable knowledge on tailoring foods for special diets, including vegetarian, pureed, and gluten-free diets. Empower yourself with the information and guidance to confidently address meal modifications and provide suitable options for participants with specific dietary needs in the CACFP at your Head Start site.
Read More