The 2021 National CACFP Sponsors Association National Conference for the CACFP & SFSP Communities will be offered virtually. Attendees will be able to join this premier event online from the comfort of their home, office, or home offices.
*Industry Partners get 10% off exhibitor and advertising opportunities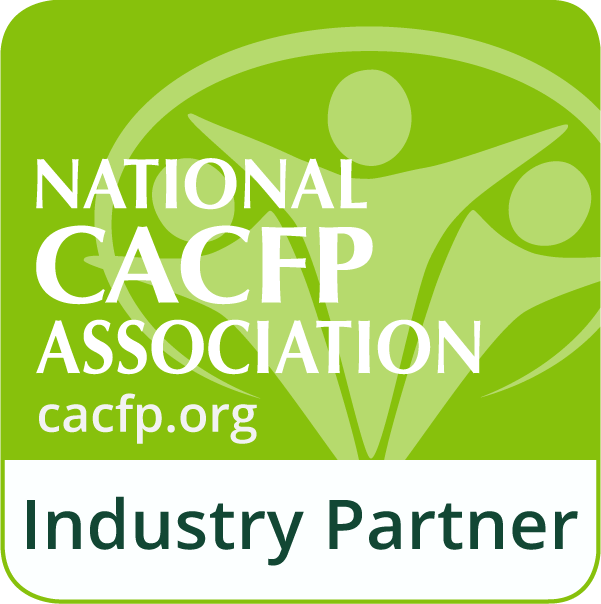 $5,000 Conference Sponsor (unlimited)
Logo and link on Main Conference Page (scrolling)
Logo and link on Conference Registration Page (scrolling)
Name and/or logo on Attendee Confirmation
Two complimentary Conference Attendees
Logo recognition on various Conference Promotions
One-time Facebook recognition
Panelist in our one-hour Sponsor Spotlight session
One-time placement in eNews as part of the Sponsor Group Thank You
$1,500 Conference Exhibitor (unlimited)*
Enhanced Listing in Online Exhibitor Platform for 90 days, which includes

Company/Organization Logo
Company/Organization Name
Address
Contact Name
Contact Email
Contact Number
Website Link (up to 2)
130-character introductory description
1,000-character additional information
Up to 10 key words for search function
Video (up to 25 MB)
Two .png images (for sale sheets, resources, giveaway, discounts, coupons, etc.)

Opportunity to participate in the Scavenger Hunt (door prize program)

Drives traffic to your listing
Participant contact list sent to you directly

One complimentary Conference Attendee
One-time Facebook recognition
Conference Exhibitor Meet-Up Session
$2,500 Main Attendee Program Page Advertisement*
Image linked to 8.5x11-inch promotional PDF on Conference Programming Page
Promotional PDF will also be placed in the conference program
$5,000 Solution Spotlight (6 available)*
15 minutes of Non-Compete Presentation or Demo (recorded and available for 30 days)
Full promotion in all conference materials as part of the programming
$500 Full-Page Ad in Digital Conference Program*
Virtual Conference
Eugenie Sellier, Feeding the Gulf Coast, Theodore, AL
Lorinda Duffy, Early Childhood Center, Bayfield, WI
Eileen Demelo, Head Start, Salem, OR
Diana Hughes, CEF Back To Basics, Port Gibson, MS
Stephenia Mcpherson, Montgomery Public Schools, Montgomery, AL
Michelle Scott, Lawrence County Community Action Partnership, New Castle, PA
Sara Thurston, Western Dairyland CACFP, Eau Claire, WI
Lisa Zwiener, DCCDA/Positive Bright Start, Lawrence, KS
Melek Yavuz, Child Care Solutions, Syracuse, NY
Kimberly Dumond, Catholic Charities Maine, Auburn, ME
Viktoriya Yudovina, FLIPANY, Fort Lauderdale, FL
Rozanne Worden, United Community Action Program, Inc., Pawnee, OK
Lisa Jimenez, Family Resource and Referral, Stockton, CA
Cora Shannon, Coramaze Child Care, Davenport, IA
Brandon Meline, Champaign Urbana Public Health District, Champaign, IL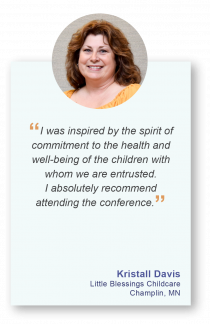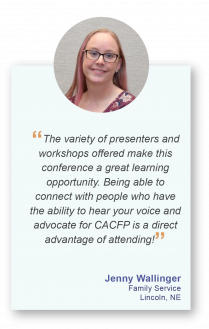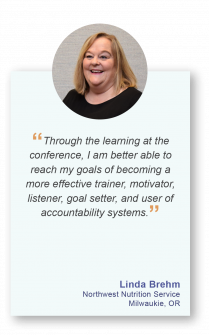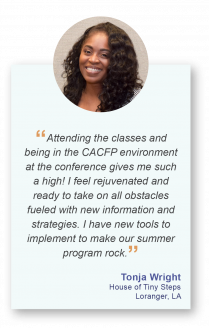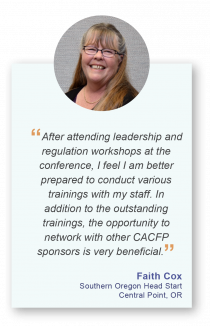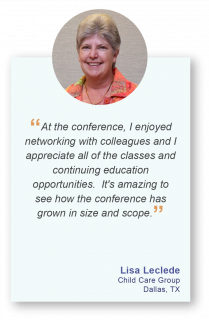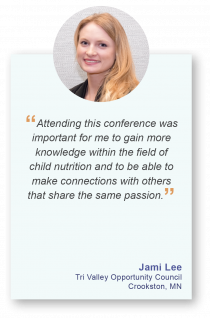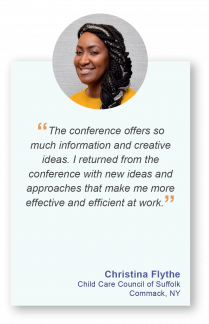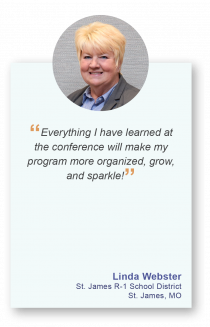 San Antonio, TX
Heather Solus, Great Northern Services, Weed, CA
Jennifer McClay, Food Bank of South Jersey, Pennsauken, NJ
Benu Chhabra, Family Child Care Provider, Concord, CA
Kristy Hodges, Grayson County Board of Education, Leitchfield, KY
Caroly Pancarowicz, East Hartford Public Schools, East Hartford, CT
Dawn Denise Aragon, Eastern Shoshone and Northern Arapaho Birth to Five Head Start Program, Fort Washakie, WY
Patricia Newton-Powell, Penfield Children's Center, Milwaukee, WI
Joyce Mason, Childsavers, Richmond, VA
Terri Sluss Cole, Child Care Resource Center, Lorain, OH
Chris Taylor, Foodbank of the Rockies, Denver, CO
Patricia Enneper, Children's Center of the Upper Valley, Lebanon, NH
Caitlin Vadini, Quality Care for Children, Atlanta, GA
Monique Torres-Perish, Choices for Families, Inc., Albuquerque, NM
Audrey Pasion, PATCH, Honolulu, HI
San Diego, CA
Cassandra Aldridge, Texarkana Special Education Center dba Opportunities Inc, Texarkana,TX
Dana Youkilis, Child Care Council of Nassau, Garden City, NY
Deborah Thomas, Volunteers of America of Los Angeles, North Hollywood, CA
Eva R. Jones, Alpha & Omega Nutrition Program, Memphis, TN
George Garcia, Geo-Son Child Care Services, McAllen, TX
Holly Pence, Comstock Public Schools, Kalamazoo, MI
Karen Turner, Council of Churches of the Ozarks, Springfield, MO
Kay Sunram, White Earth Tribal Council, White Earth, MN
Keturah R. Swenson, Child Development Associates, Bonita, CA
Lupe Villanueva, Catholic Charities, Chicago, IL
Michele Warner, Cambria County Child Development, Ebensburg, PA
Renee Griffin, Ohio County Schools, Wheeling, WV
SiKia Brown, Arkansas Hunger Relief Alliance, Little Rock, AR
Trina Tyson, City of Inglewood, Inglewood, CA
Orlando, FL
Jill Dockins, White River Planning & Development Dist, Batesville, AR
Afonda Johnson, Children's Hunger Alliance, Columbus, OH
Kristin Lampkins, 4C of Southern Indiana, Evansville, IN 
Della Stocks, Nutrition Plus, Goldsboro, NC 
Carrie Sullivan, Provider's Network, Lincoln, NE
Las Vegas, NV
Tina Clifton, St Vincent de Paul, Coeur d Alene, ID
Geri Langseth, SENDCAA, Fargo, ND
Lori Mendoza, Association for Supportive Child Care, Tempe, AZ
Deborah Noel, Kids Unlimited Services, Charlton, MA
Carol A. Payne, Better Child Care, Jacksonville, IL
Thank You to Our Sponsors and Partners!