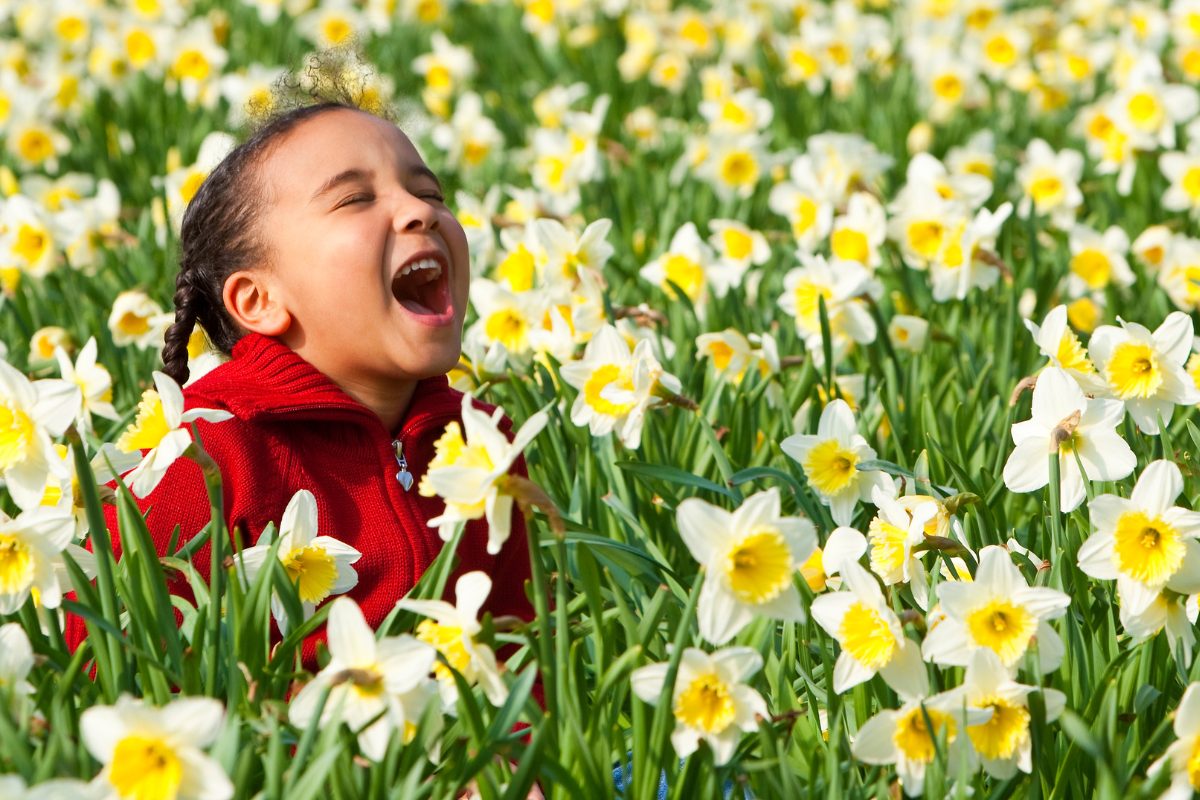 Feeling the warmer breeze and seeing flowers sprouting everywhere? It must be that Spring has sprung in your area!  March 20 marks the first day of Spring and what better way to celebrate this season with children than through crafts, books, and the foods you serve!  
For starters, download our free Happy Spring Activity Page for two springtime recipes, two physical activities, and a craft.
In addition, here are some fun ideas we have developed to keep you celebrating spring for the next three months. 
Upcycled Birdfeeder in a Can
Using an empty and cleaned can, have children paint the outside of the can. Once the paint dries, puncture the bottom of the can about ½" from the edge. Help children glue a stick or wooden dowel inside the can, where at least 2-3" inches is jutting out from the can. Using about 2 feet of string or twine, loop the string inside the can and through the hole. Tie a knot with the ends of the string. Scoop ¼ cup of bird seed into the can and hang it outside on a tree. Children can go bird watching while playing outside or observe through a window when indoors. 
Handprint Spring Flowers
Every flower that grows in spring is different from the others, whether it's their shape, size or color. Let children make their own unique flower! Help children trace their hand on construction paper. Then assist them when cutting out the hand. With green construction paper, cut out rectangles for the stem and two leaf shapes for each flower the child will make. Using black construction paper, cut out two identical trapezoid shapes to look like a flowerpot. Have children glue the stem to one of the paper pot- shapes and then glue the other paper pot shape on top. Glue the leaves and flower onto the stem. There you have it! Each child will have their very own special flower. 
Learning Circle Reading Suggestions
Have children talking and getting excited about spring with fun books. Have children identify what spring things they see when they are outside. What can they do outside now that it is spring? Use these suggested books to help with the conversations. 
The Tiny Seed / La Semillita by Eric Carle
It's Spring by Susa Swan
Spring is Here: A Bear and Mole Story by Will Hillenbrand
Rose's Garden by Peter H. Reynolds
Spring Things by Dr. Seuss
Spring Celebration Recipe Corner
As you go to the grocery store or local farmers market, you'll start seeing a variety of different fresh fruits and vegetables to choose from. Incorporate some of these spring-forward foods into your menu.