The Child and Adult Care Food Program (CACFP) is a federal program that provides reimbursements for nutritious meals and snacks served to eligible infants, children and adults. These participants can be at child care centers, day care homes, adult day care centers, at-risk afterschool care centers, and emergency shelters.
Who is eligible to be a participant?
Children ages 12 and younger
Children of migrant workers ages 15 and under
Children ages 18 and younger in At-Risk Afterschool programs and Emergency Shelters
Children and adults of any age with disabilities
Adults ages 60 and older
How is reimbursement determined?
Reimbursement for CACFP participants is dependent upon a variety of factors, such as what type of facility is administering the CACFP, the income level of participants and the income level of the area. To find out what your income/area eligibility and reimbursement rates would be, please use the following links.
What kind of food is served in the CACFP?
The CACFP nutrition standards are based on the Dietary Guidelines for Americans, science-based recommendations made by the National Academy of Medicine, cost and practical considerations, and stakeholder input. There are five meal components: Grain, Vegetable, Fruit, Meat/Meat Alternate and Fluid Milk. In order to be reimbursed, the meal or snack must contain the required components in their minimum amounts by age.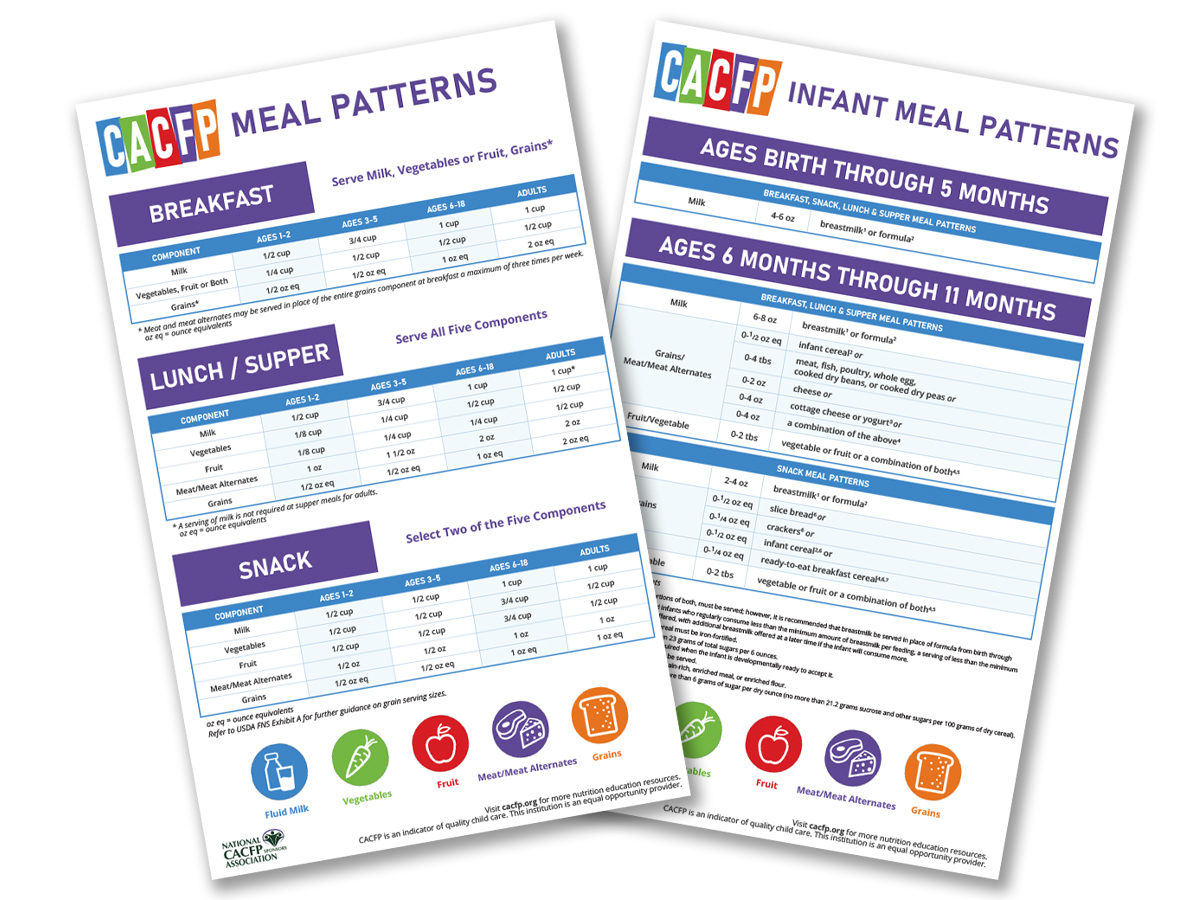 I want to join the Food Program!
Great! There are three ways to join the Food Program. 
A CACFP Sponsor is an organization that will help you claim reimbursement for the meals and snacks that you serve through the CACFP. They ensure you are compliant with state and federal rules and assist you in proper reporting and other administrative functions.
Contract with State Agency Directly
Independent centers may contract directly through their State Agencies. This does not apply to family child care homes, which must find a sponsor in order to participate in the food program.
If you operate multiple child care centers, adult day care centers, at-risk afterschool programs or emergency shelters, you may be eligible to become a sponsoring organization. For-profit organizations may only sponsor for-profit centers within the same legal entity, i.e. affiliated centers. A nonprofit organization may sponsor both affiliated and unaffiliated centers.
Responsibilities of a Sponsor include:
Assume financial and administrative responsibility for each participating site
Attending and providing trainings
Preparing reimbursement claims
Ensuring permits are obtained and maintained
Regular monitoring of participating sites
Contact your State Agency to find out if you are eligible to become a sponsor and what your next steps are.
What type of program do you operate?
Identify the care you provide and follow your path to joining the CACFP.
Child Care Center
Public or private nonresidential licensed child care centers
Serves children ages 12 and under
Reimbursement for up to 2 meals and 1 snack, or 1 meal and 2 snacks - per child, per day
Reimbursement is based on the income level of the children in care (free, reduced-price or paid rates)
Join the Food Program by either

Finding a Sponsor
Contracting with your State Agency directly
Becoming a Sponsor through your State Agency
Family Day Care Home
Licensed family or group day care homes
Serves children ages 12 and under
Reimbursement for up to 2 meals and 1 snack, or 1 meal and 2 snacks - per child, per day
Reimbursement is based on the income level of the local geographic area, the child care provider, or the children in care (free, reduced-price or paid rates)
Must join the Food Program signing an agreement with a sponsoring organization
Adult Day Care Center
Public or private nonprofit adult day care centers
For-profit centers may be eligible for CACFP if at least 25% of their participants receive benefits under title XIX (Grants to States for Medical Assistance Programs) or title XX (Block Grants and Programs for Social Services and Elder Justice)
Individuals who reside in institutions are not eligible
Serves adults 60 or older, or adults who are physically or mentally impaired to the extent that limits their independence and ability to carry out activities of daily living
Reimbursement for up to 2 meals and 1 snack, or 1 meal and 2 snacks - per adult, per day
Reimbursement is based on the income status of each participant
Join the Food Program by either

Finding a Sponsor
Contracting with your State Agency directly
Becoming a Sponsor through your State Agency
At-Risk Afterschool Site
The program must:

Be located at a site where at least half of the children in the school attendance area are eligible for free and reduced-price school meals
Offer educational or enrichment activities after the regular school day ends or on weekends and holidays, during times of the year when school is in session
Meet licensing, health or safety codes required by state or local law

Afterschool programs located in schools are also eligible
Serves children ages 18 and under
No application for guardians to fill out
Reimbursement for up to 1 meal and 1 snack - per child, per day

ARAS sites can serve one meal per day on weekends or during vacations with State Agency approval
ARAS sites can also serve 2 snacks instead of 1 meal and 1 snack with State Agency approval

Reimbursement is at the free rate
Join the Food Program by either

Finding a Sponsor
Contracting with your State Agency directly
Becoming a Sponsor through your State Agency
Emergency Shelter
Any facility whose primary purpose is to provide temporary shelter to homeless families with children
Serves children ages 18 and under
No application for guardians to fill out
Reimbursement for up to 3 meals or 2 meals and 1 snack - per child per day
Reimbursement is at the free rate
Join the Food Program by either

Finding a Sponsor
Contracting with your State Agency directly
Becoming a Sponsor through your State Agency