The CACFP's Impact Across the Nation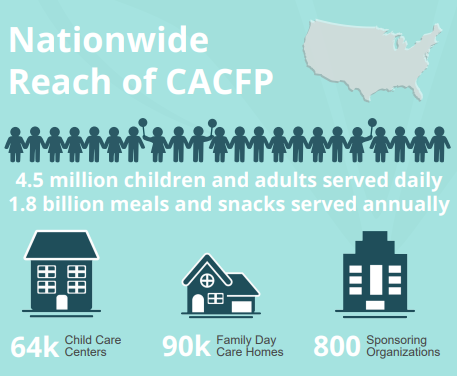 The Child and Adult Care Food Program (CACFP) combats hunger and brings healthy foods to tables across the country for children in child care centers, homes, emergency shelters and afterschool programs as well as adults in day care. This federal USDA program provides financial reimbursement to child care operators for serving nutritious meals and snacks to children in their care. CACFP contributes to the wellness, healthy growth and development of young children and adults across the country. 
More than 138,000 child and adult care providers operate the CACFP, serving nutritious meals to over 4.5 million children and adults daily. 
Supporting Small Businesses
Child care is becoming increasingly unaffordable nation-wide. The financial reimbursement provided through the CACFP helps child care programs decrease food costs and keep tuition rates low for the families they serve. 
Helping Families Keep Kids Fed 
One in every eight children are food secure in the United States, meaning approximately 9 million children don't know where their next meal will come from. CACFP programs provide quality meals to many of these children, and help working families protect their children against hunger. 
Providing Balanced Meals
CACFP-participating child and adult care institutions serve more nutritious foods and beverages compared to non-participating programs. Participating programs provide more meals and serve more vegetables, meat, eggs, whole grains, and milk.  
Creating Life-Long Healthy Habits
Good nutrition starts early, but many families don't have the time or resources to teach their children to make healthy food choices. Nutrition education is an important factor in the CACFP and helps children establish positive eating habits at an early age - ensuring their proper development and decreasing the likelihood of diet-related diseases. 
Want to participate in the CACFP? Learn more at out Join the Food Program webpage.