Webinar: Phrases that Help and Hinder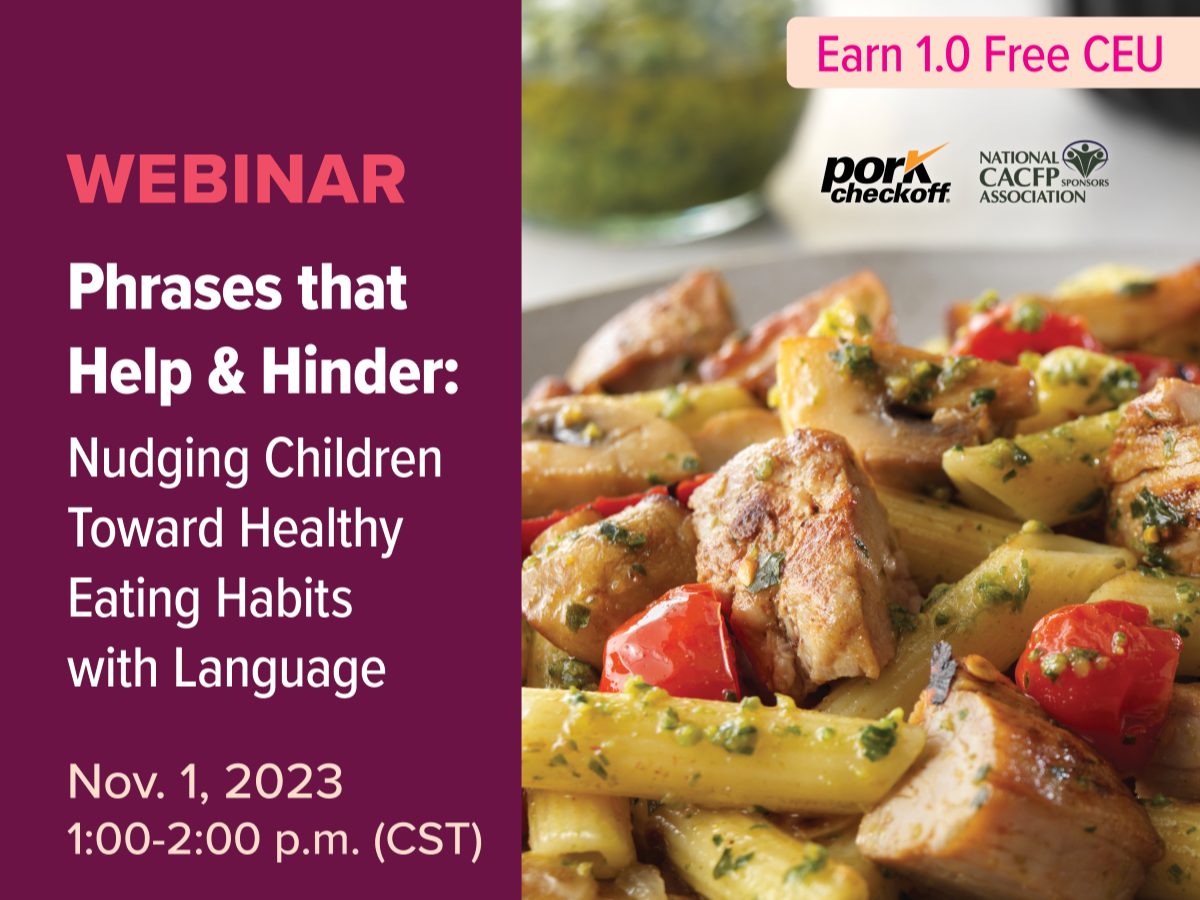 On November 1st, join NCA's Nutrition Education Specialist, Isabel Ramos-Lebron as she joins experts from the National Pork Board to present this webinar that will help create healthy habits.  
WEBINAR: "Phrases that Help and Hinder: Nudging Children Toward Healthy Eating Habits with Language" 
DATE: November 1, 2023 
TIME:  1:00 PM to 2:00PM CT | 2:00 PM to 3:00 PM ET 
Caregivers play a big role in shaping children's eating behaviors, including through the choice of language about food and the variety of food offered during food experiences.   
This webinar will help caregivers, and the nutrition professionals who work with them, identify constructs of positive and negative food exposures and provide a better understanding of how to use positive, inclusive language and offerings as powerful tools during conversations about food with children.  
Using certain phrases when describing flavors or amid food exposures can directly impact children's eating behavior. Moreover, serving a variety of foods, including foods that meet cultural preferences and budgetary needs, could help or hinder how a child develops healthy eating habits.   
Empowering children to explore new foods without feeling shame or stigma and expand their vocabulary to communicate better around the table about their likes and dislikes, could make new food experiences more successful.   
*Approved by the CDR to offer 1.0 CPEU for this webinar 
Three learning objectives will be met through this session.  
1) Describe three phrases that help children develop healthy eating habits.   
2) Identify two opportunities to work with caregivers to encourage conversations on new foods with children around the table.    
3) Understand how to incorporate a target population's affordability and cultural food preferences when translating the latest science on nutrition using helpful phrases.  
Session Presenters
Geb Bastian, PhD, RDN, LN 
SNEB Food and Nutrition Extension Education Division Chair, South  Dakota State University 
Kristen Hicks-Roof PhD, RDN, LDN, CLC, FAND 
Director, Nutrition Research, National Pork Board 
Isabel Ramos-Lebron, MS, RDN, LDN 
Nutrition Education Specialist, National CACFP Sponsors Association 
Emily Krause (Parent), MFCS, RD, LD, FAND 
Director, Nutrition, Health and Wellness Initiatives, National Pork Board