State Agency Collaboration Meeting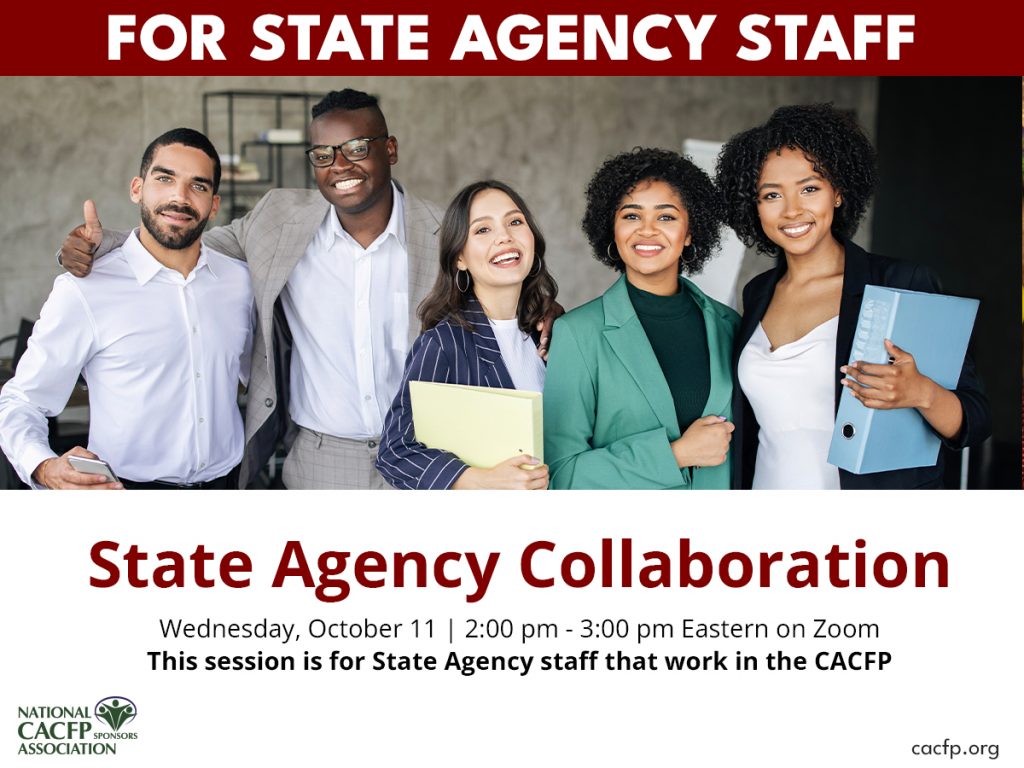 State agencies play a key role in the operation of the CACFP, acting as the link between USDA and CACFP operators as well as by providing technical assistance and support to CACFP sponsors and providers. The National CACFP Sponsors Associations recognizes the importance of State Agencies and is working to expand our collaboration with State Agencies. 
Join our meeting on October 11 from 2:00 – 3:00pm Eastern, for a discussion covering topics including: 
Program Integrity Final Rule Implementation 

 

Serious Deficiency Proposed Rule (Tentative) 

 

CACFP Best Practices in Your States (Interactive Activity)

 

Impact of End of Flexibilities in Your State 

 

What's New from NCA 

 
This meeting is meant to be an open dialogue between NCA and State Agencies to discuss successes and challenges in the CACFP and determine how best NCA can support States throughout the year. This session is exclusively for State Agency directors and NCA State agency members working in the CACFP. Please contact partnerships@cacfp.org for information to register. 
Hosted by:  
Alexia Thex, Director of Policy and Partnerships, NCA  
McKenzie Brunner, Policy and Outreach Specialist, NCA  
Also, don't forget to meet up with us for another State Agency Collaboration meeting at the 2024 National Child Nutrition Conference in Orlando! Registration opens November 1st!