CACFP Head Start Boot Camp is Here!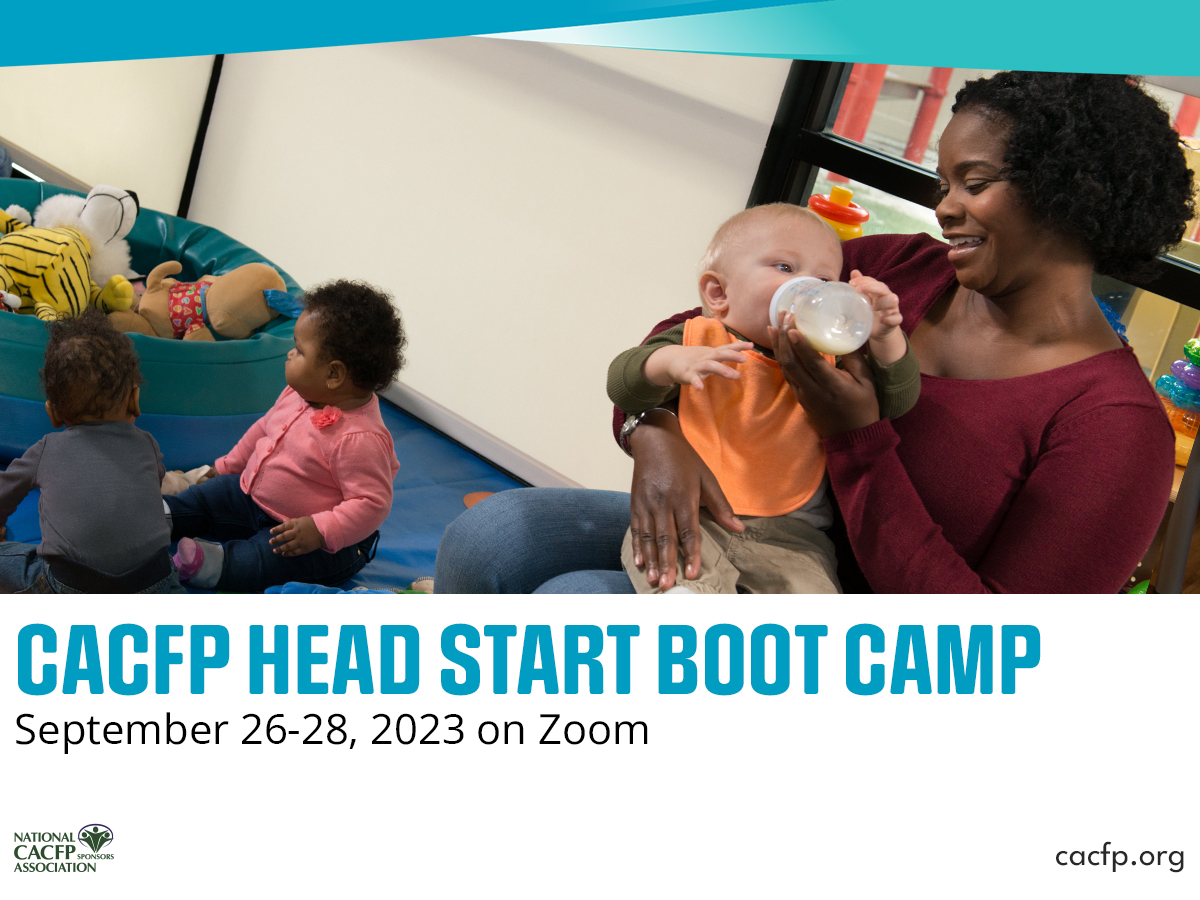 Are you a dedicated Head Start provider participating in the Child and Adult Care Food Program (CACFP)? Do you want to enhance your knowledge and skills in your field?
NCA has an exciting opportunity for you! Introducing the "CACFP Head Start Boot Camp," a virtual event designed exclusively for Head Start providers, happening from September 26th to 28th, 2023.
Join us via Zoom Tuesday through Tuesday, September 26-28, 2023 - 11:00 am - 3:45 pm Eastern.
Prepare for a series of captivating and educational sessions covering a wide range of topics, including nutrition, program administration, operational excellence, and more!
Whether you're a seasoned Head Start provider with years of experience or just beginning your journey, this event guarantees a wealth of valuable insights and actionable strategies. Join us to elevate your expertise and make a meaningful difference in the lives of the children and families you serve.
All sessions will be recorded and available for viewing until October 12, 2023. This means you can access all the valuable content at your convenience, allowing you to absorb all of the information at your own pace and revisit the sessions when needed.
Earn up to 11 continuing education credits.
Early birds take note: register by September 14th to secure the discounted price of $149 for standard registration. After this date, the price increases to $199. Be sure to take advantage of the reduced rate and reserve your spot today!
---
Schedule At-a-Glance
*All times are listed in Eastern*
Tuesday, September 26:
11:00 am - 11:10 am | Boot Camp Welcome: We'll be starting the event with a warm welcome, setting the tone for three days of learning and growth.
11:15 am - 11:45 am | Meal Patterns 101: Dive into the fundamentals of meal patterns in Head Start, a crucial aspect of CACFP compliance.
12:00 pm - 1:00 pm | CACFP Regulations for Head Start: Gain insights into the specific CACFP regulations that pertain to Head Start programs, ensuring you're up-to-date with compliance requirements.
1:30 pm - 2:30 pm | Fueling Minds and Bodies in Head Start with Family-Style Dining: Explore the benefits of family-style dining and how it can positively impact the children in your care.
2:45 pm - 3:45 pm | Mastering Head Start Menus in the CACFP: Learn the art of creating nutritious and appealing menus that meet CACFP guidelines.
Wednesday, September 27:
11:00 am - 12:00 pm | Civil Rights Complaint Procedures: Understand the procedures and regulations related to civil rights complaints, ensuring that your program promotes fairness and equality.
12:15 pm - 1:15 pm | Fueling Healthy Growth in Early Head Start: Discover strategies to promote healthy growth and development in early Head Start children through proper nutrition.
1:45 pm - 3:45 pm | Understanding Meal Modifications in the CACFP: Get a comprehensive understanding of meal modifications and how to accommodate dietary needs effectively.
Thursday, September 28:
11:00 am - 12:00 pm | A Change of Taste: Reducing Sodium in the CACFP: Explore ways to reduce sodium levels in CACFP meals, promoting healthier eating habits.
12:15 pm - 1:15 pm | Emergency Preparedness for Head Start: Ensure the safety and well-being of children in your care with essential emergency preparedness insights.
1:30 pm - 2:30 pm | Ask Us Anything: CACFP Head Start: Get your burning questions answered by our expert panel in this interactive session.
This is your chance to sharpen your skills, get a refresh on CACFP regulations, and enhance the quality of nutrition and care you provide to children in Head Start programs. Secure your spot today and join us for three days of enriching sessions that will benefit both you and the children you serve. Register now to take advantage of the standard registration rate before it increases. NCA looks forward to welcoming you to this exciting event!