2023 Virtual Summit Dates Announced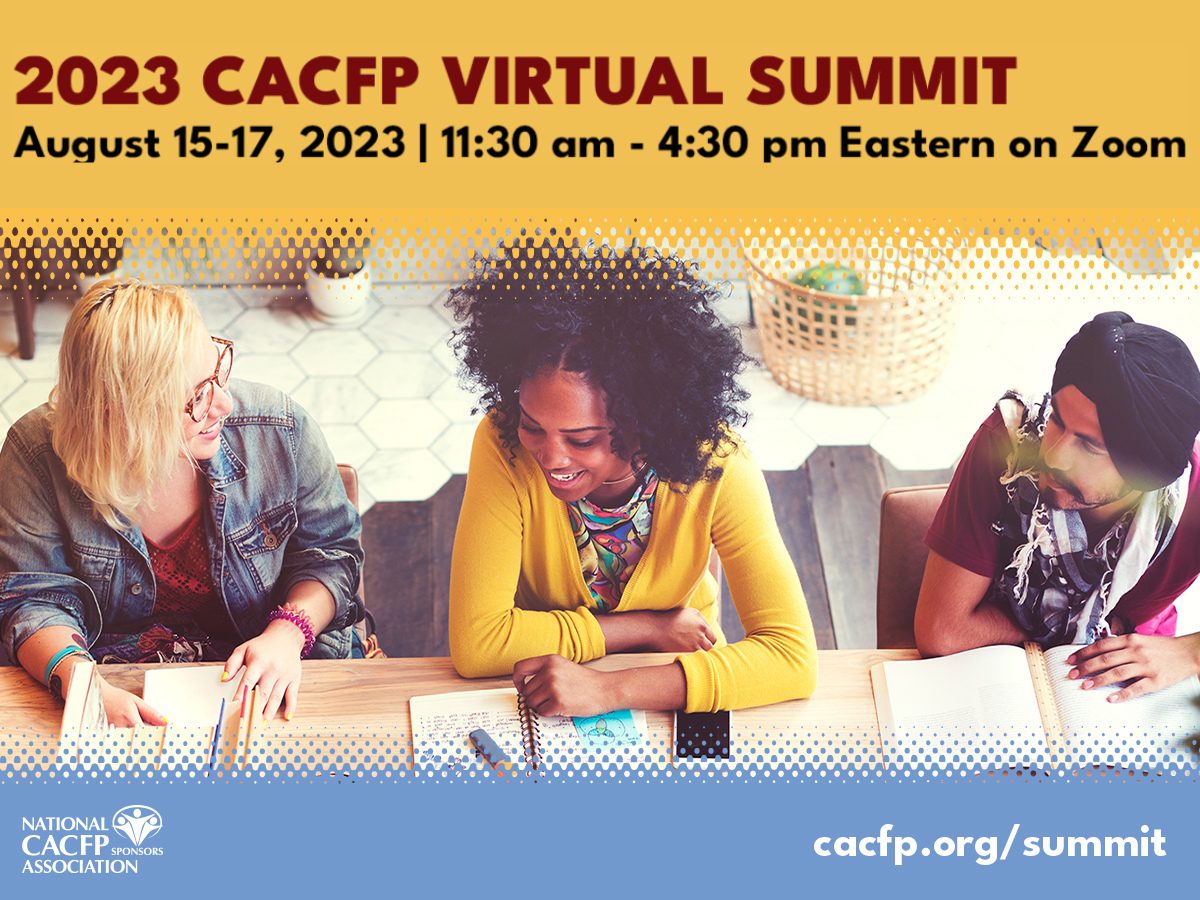 Are you looking for training to enhance your knowledge and skills in the CACFP? Look no further!
NCA is thrilled to announce the dates for the highly anticipated 2023 CACFP Virtual Summit! This premier online event is designed exclusively for CACFP professionals.
Join us via Zoom Tuesday through Thursday, August 15-17, 2023 - 11:30 am - 4:30 pm Eastern.
You can expect a series of engaging and informative workshops on topics such as nutrition, program administration, operations, financial and nonprofit management, and more!
Whether you're a seasoned CACFP veteran or new to the program, this event promises to provide valuable insights and practical strategies to elevate your performance and make a positive impact on the communities you serve.
All sessions will be recorded and available for viewing until August 31, 2023. This means you can access all the valuable content at your convenience, allowing you to absorb all of the information at your own pace and revisit the sessions when needed.
Earn up to 12 continuing education credits.
Early birds take note: register by August 3rd to secure the discounted price of $149 for standard registration. After this date, the price increases to $199. Be sure to take advantage of the reduced rate and reserve your spot today!
Schedule At-a-Glance
*All times are listed in Eastern.*
Tuesday, August 15th
11:30 am – 12:00 pm | CACFP Summit Welcome & CACFP 101
12:15 pm – 1:15 pm | Explore New Foods with a Taste Testing Adventure
1:30 pm – 2:30 pm | USDA Policy Updates & Town Hall
2:45 pm – 3:45 pm | Promoting Responsive Feeding Practices in Early Childhood Settings
4:00 pm – 4:30 pm | Quizapalooza: Are You a Meal Pattern Super Star?
Wednesday, August 16th
11:30 am – 12:00 pm | Ask Us Anything About CACFP Head Start
12:15 pm – 1:15 pm | Book & Bake to Build Math, Science, and Literacy Foundations
1:30 pm – 2:30 pm | Program Accountability: Internal Controls
2:45 pm – 3:45 pm | Plant-Powered Palates: Showcasing Plant-Forward CACFP Recipes & Menus
4:00 pm – 4:30 pm | Creditable or Not?
Thursday, August 17th
11:30 am – 12:00 pm | Ask Us Anything About CACFP Meal Patterns
12:15 pm – 1:15 pm | Building Healthy Bodies with the Food We Serve
1:30 pm – 2:30 pm | Culinary Knife Skills for Child Nutrition Programs
2:45 pm – 3:45 pm | Resilience is Everything
4:00 pm – 4:30 pm | Ask Us Anything: No CACFP Questions Unanswered