Share Your CACFP Experience in this Nationwide Survey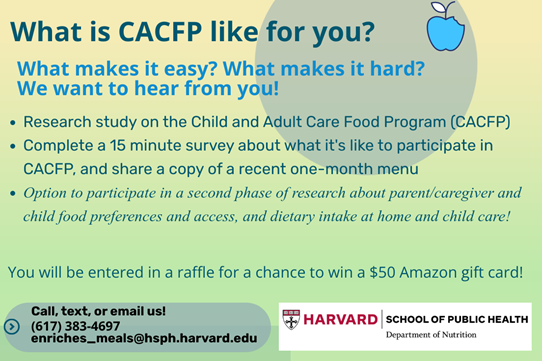 Participate in a nationwide survey of CACFP Sponsors and Providers being conducted by the Harvard T.H. Chan School of Public Health for a chance to win a $50 Amazon gift card! Share your experiences about what makes it hard and what makes it easy for child care programs to participate in CACFP, and share a copy of a one-month menu.
¡Participe en una encuesta nacional de patrocinadores y proveedores de CACFP realizada por la Escuela de Salud Pública TH Chan de Harvard para tener la oportunidad de ganar una tarjeta de regalo de Amazon de $50! Comparta sus experiencias con CACFP, lo que dificulte y facilite que los programas de cuidado infatil participen en el programa. También pedimos que comparta un menú suyo reciente.