Successful Non-Congregate Meal Service Models for Rural Areas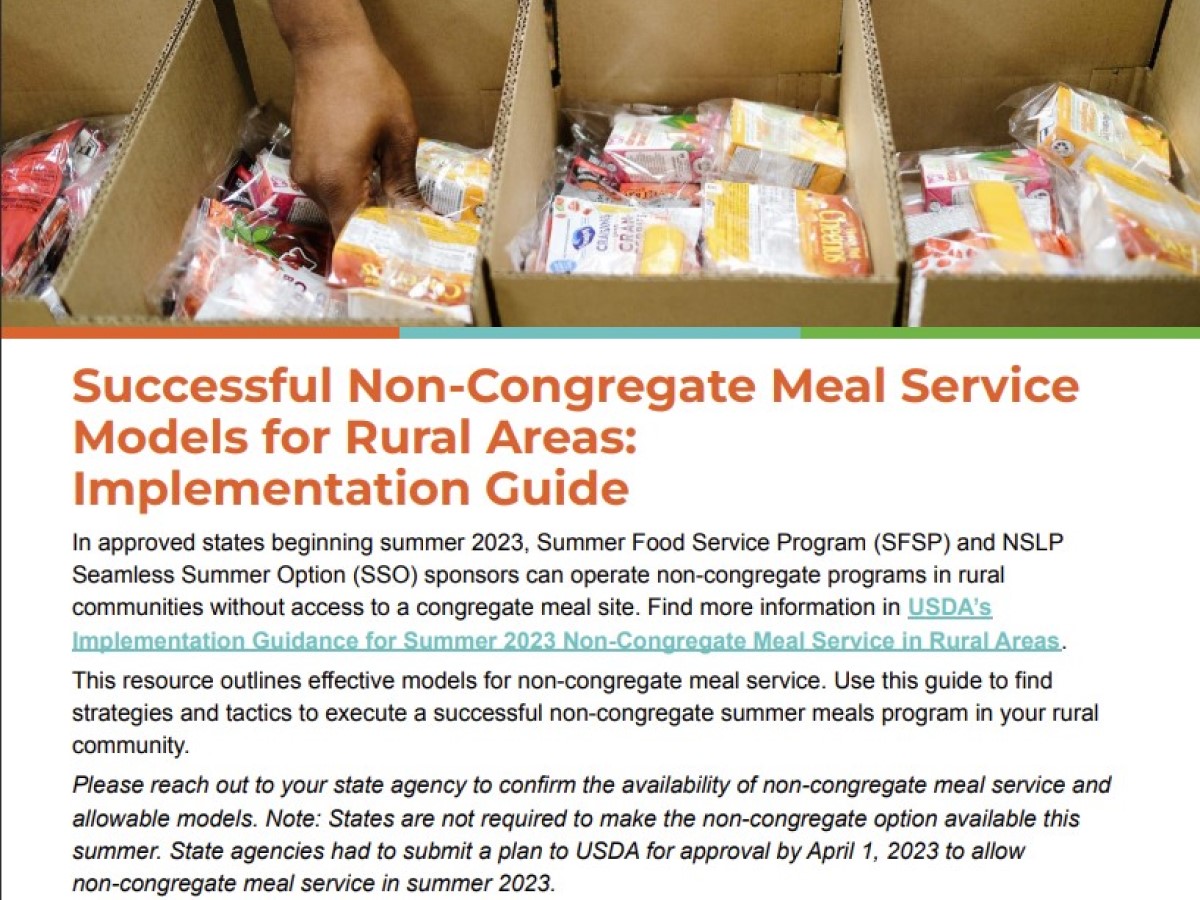 In approved states beginning summer 2023, Summer Food Service Program (SFSP) and NSLP Seamless Summer Option (SSO) sponsors can operate non-congregate programs in rural communities without access to a congregate meal site. Our partners at No Kid Hungry have created a resource that outlines effective models for non-congregate meal service. Use their guide to find strategies and tactics to execute a successful non-congregate summer meals program in your rural community. 
Considerations for Non-Congregate Meal Service
For all non-congregate meal service models:   
Both sponsors of the Summer Food Service Program (SFSP) and NSLP Seamless Summer Option (SSO) may provide non-congregate meal service in states approved for summer 2023 non-congregate operations in rural areas. 

 
Non-congregate meal service can only be used in locations that are considered rural and without access to a congregate site. See definition of "rural" above. 

 

Sponsors should work with their state agencies and FNS Regional Offices to identify rural "pockets" or rural areas within a Metropolitan Statistical Area.

 

Sponsors can utilize both congregate and non-congregate meal service models. For example, sites in eligible communities can serve congregate meals Monday through Friday and non-congregate meals Saturday through Sunday. Or if a program only offers an in-person lunch service, children can consume lunch on-site and take home a breakfast for the following day. 

 

Up to two meals, or one meal and one snack, per child, per day may be offered (in any combination except lunch and supper). Please reference USDA's guidance: Offering Multiple Meals as Part of Summer Non-Congregate Meal Service 

 

With state agency approval, sponsors can distribute up to 10 calendar days of meals at one time. 

 

Meal service times must be established and approved by your state agency. Approved pick-up schedules or delivery plans may meet this requirement. 

 

Unlike congregate meal service, sponsors operating non-congregate sites are not required to serve breakfast in the morning or allow one hour between the end of one meal service and the start of the next. 

 

Meals may be distributed to caregivers to take home to children using a process to ensure eligibility of children.

 
Meal Distribution Models
Choose a model or mix of models that work best for your sites, staff, and community. 
Drive-thru or curbside pick-up
In drive-thru or curbside pick-up models, the majority of families arrive by car to receive meals. Families drive up to the pick-up spot, and the meals are loaded into their cars outside. This model is best for meal programs planning to distribute multiple meals at one time. It also is ideal for communities with one or multiple easily accessible, central locations where meal distribution can take place. Multi-day meal packs result in a larger quantity of food leading to heavy boxes or bags, and a drive thru or curbside model accommodates the large quantity of food.  
Things to consider:  
Caregivers or families may stay in their vehicles while receiving meals. Some families may prefer this to remain more anonymous. 

 

Establish a distribution point that allows for a line of waiting vehicles without backing up onto the street. 

 

Think about weather conditions. Consider purchasing a tent and other inclement weather gear for your staff. 

 

Sites should use clear signage – in multiple languages, as applicable – to advertise the availability of free summer meals. 

 

Offer a separate line for families that walked to the site or used public transportation. Consider offering smaller bundles of meals or loaning grocery carts for the summer.

 
Walk-up distribution
In this model, meals are available for pick-up at one or multiple central locations. Locations can be indoor or outdoor. Individual meals or multi-day meal packs are provided to children or caregivers on behalf of their children with this grab and go model. Walk-up distributions are ideal for communities with easily accessible central locations by public transportation, car, or walking. It is also ideal when fewer meals are provided at one time to accommodate those walking or taking public transportation. 
Things to consider:  
If offering multi-day meal packs, consider offering smaller bundles or lending grocery carts to families walking or using public transportation. 

 

Remember to think about weather conditions. Consider purchasing a tent and other inclement weather gear for your staff. Or, provide your meal service indoors. 

 

If sites are indoors, be sure to clearly identify where people should go to receive the meals. Outdoor sites should also use clear signage to advertise the availability of free summer meals.

 
Mobile route distribution
In mobile, non-congregate models, sponsors use a vehicle to travel to multiple site locations. Similar to congregate mobile models, non-congregate mobile routes are ideal in areas where families face transportation difficulties and in rural communities. Sponsors utilizing non-congregate mobile routes may be able to add more site locations to routes because vehicles do not need to wait for meals to be consumed. 
Things to consider:  
This model works well for individual meals and multi-day meal packs. 

 

For schools, consider utilizing a known schedule for bus routes to identify stop locations and optimal routes. 

 

Select accessible locations near where families live, like parks, housing communities and apartment complexes. 

 

Apps and websites like Here Comes the Bus and Where's the Bus can be used by families to track where the bus or vehicle is along the meal service route. This prevents families from missing meal distributions if the vehicle is running early or late.

 
Direct home delivery 
Direct home delivery works best for multi-day meal distributions by saving sponsors time and resources necessary for individual deliveries to families' homes. 
Things to consider:  
Mail, delivery service, or hand-delivery is allowed in this model. 

 

Home delivery requires signed consent from the parent or caregiver. 

 

Sponsors eligible for operating home delivery are school food authorities (SFAs) and community-based sponsors. 

 

Community-based sponsors must establish a Memorandum of Understanding (MOU) with an SFA in order to use the school's student data to identify and invite eligible students to home delivery. 

 

Sponsors must confirm the household's current contact information and identify the correct number of children in each household. 

 

All students within an area-eligible service area are eligible to receive home-delivered meals and may be invited to participate. If the service area includes non-area eligible locations, then the student must be determined eligible for free or reduced-price school meals in order to receive home-delivered summer meals. 

 

With approval, meals for multiple days may be delivered at one time once the number of eligible children in the house has been verified and daily maximums are kept (i.e. no more than one breakfast and one lunch per child per day).

 
Meal Distribution Logistics
Regardless of model, consider the equipment or supplies needed for success.  
Outdoor sites:

Shade via pop-up tents or other shelters

 

Rain gear 

 

Access to restrooms (for curbside and walk-up models) 

 

Indoor option for inclement weather 

 

Meal transport: 

 

Vehicle with hot and/or cold storage (if necessary) 

 

Carts or rolling racks 

 

Meal storage: 

 

Adequate refrigerator and/or freezer space 

 

Coolers, thermal bags, and Cambros to maintain food temperature 

 

Tip: If dealing with limited storage capacity, put only the items that need to be kept cold or hot in the cooler bags or Cambros. Keep the rest at room temperature and then unitize as needed for service. 

 

Large plastic totes or milk crates to store meals or meal components 

 

Thermometers

 
Consider the staffing needs for your distribution model.  
If low on staff, recruit volunteers or staff outside of your department to support meal distribution and help manage traffic. 

 

High school and college students are often looking for summer work opportunities or volunteer hours. Hiring young adults may also make your site more approachable to children and teenagers. 

 

Check out these staffing resources from No Kid Hungry to learn more! 

 
Be strategic with meal service times and the number of meals provided.  
If permitted by your state agency, distribute meals for more than one day at one time to ease transportation barriers families may face.

 

If this requires too much storage or staff capacity, have different pick-up or delivery days for different areas or locations served by the same central kitchen. 

 

Meet the needs of children with working caregivers who are unable to come during narrow timeframes during the day. Offer extended hours on certain days or an evening pick-up time rather than just an hour or two around midday. 

 

Allowing families to pre-order can help you be more accurate with meal prep. Consider a designated time for families to pick up online orders before the time promoted to the general public.

 
To learn more about eligibility for non-congregate feeding and methods to communicate and partner with those in your area, read No Kid Hungry's Successful Non-Congregate Meal Service Models for Rural Areas: Implementation Guide. To determine whether your area meets or potentially meets USDA's definition of rural for the purpose of qualifying to provide non-congregate summer meals in FY2023, visit the No Kid Hungry Summer Meals Eligibility Maps.