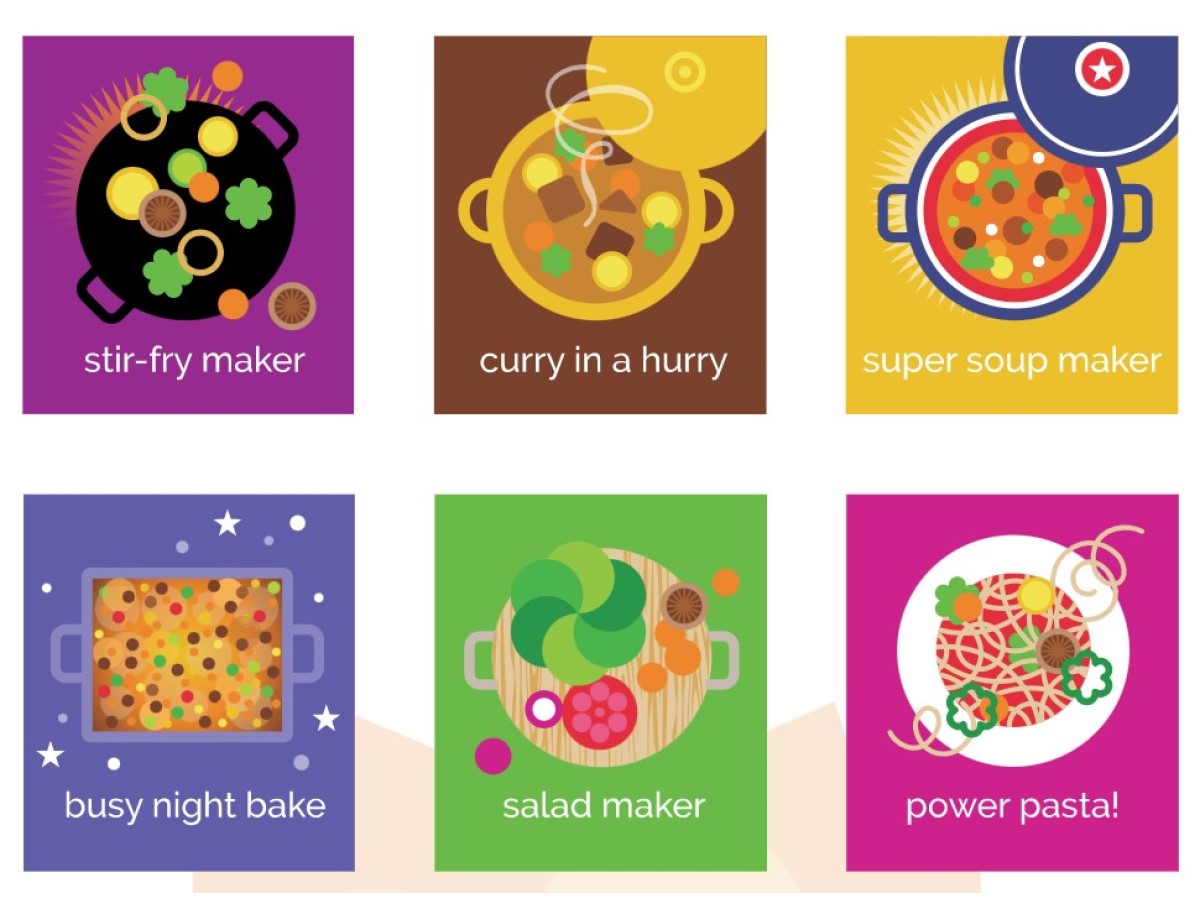 Cooking does not have to be complicated in order to be healthy and delicious. That's why our partners at Dr. Yum Project have designed meal-o-matic to help you make a few basic recipes with the ingredients you love. Design your own personalized meals based on the ingredients you have on hand, your favorite flavors, or your own dietary needs. No matter what your skill level is in the kitchen, using the meal-o-matic is easy and fun for the whole family!
Meal-o-matic has 7 different, user-friendly options: stir-fry maker, curry in a hurry, super soup maker, busy night bake, salad maker, power pasta, and yum bowl. Whichever dish you decide to make, simply select the ingredients you have available and meal-o-matic will generate a delicious recipe for you!
Stir-fry Maker
Try your hand at a quick and easy stir fry made with tons of veggies and your favorite protein on hand. This is an easy way to get dinner on the table FAST with just about anything you have in the fridge!
Curry in a Hurry
Choose from three styles of curry (Green Thai Style, Red Thai Style, and Indian Style Curry) and incorporate your favorite veggies and protein into one easy, fast and flavorful dish.
Super Soup Maker
Make a hearty soup in your favorite style (Basic, Mexican, Thai, Curry) with the ingredients you have on hand. Soup is fast, easy and forgiving, and everyone will be asking for more!
Busy Night Bake
Bake your whole dinner into one flavorful dish. Make this recipe on a night where you may have more time and make future busy nights easier with all the leftovers!
Salad Maker
Dinner is on the table fast AND you can get servings of healthy greens for your family too. Our salad maker will make a hearty dinner salad complete with veggies, grains, proteins and even fruit toppings of your choosing. Plus, make a quick and flavorful dressing and skip all the preservatives, chemicals and artificial flavors in many bottled dressings.
Power Pasta
Cook up tons of veggies you have on hand, pick a protein and make a powerful pasta dish (Italian or Asian) that everyone will love. Watching your carbs? We even have some low-carb ideas to make a Power Pasta just for you!
Yum Bowl
Serve a buffet of different choices and let everyone fill their bowl. This is a great way to satisfy family members with differing preferences or dietary needs.
Check out the resource here.