NCA CACFP Sponsoring Organization and Provider Member Advocacy Survey Report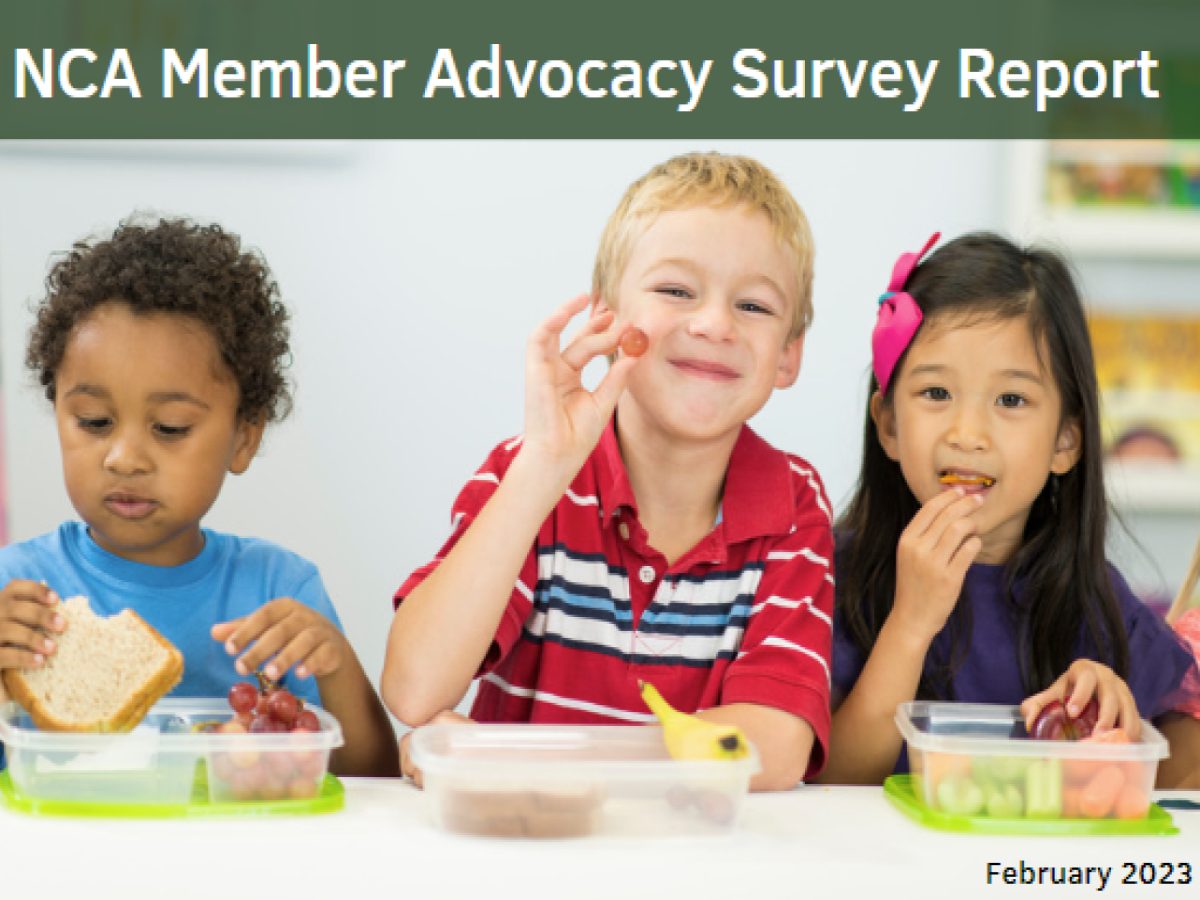 Every year NCA surveys its CACFP sponsoring organization and provider members to obtain feedback on policy issues and advocacy initiatives.  Below is the Executive Summary of the Final Report.  
Over the past year, CACFP (USDA Child and Adult Care Food Program) sponsors and providers have continued to face challenges to keep their programs viable. Sponsors and providers continue to work tirelessly to serve nutritious meals and snacks as operations move toward a new normal. Efforts such as the COVID-19 flexibilities and increased reimbursement from the Keep Kids Fed Act have helped tremendously, but as these flexibilities end and the additional funding is no longer available, sponsors and providers worry about being able to continue to participate in the CACFP. 
Executive Summary
Overall, survey respondents indicated the following as top priorities: 
Increased Reimbursement

 

Making the area eligibility waiver for Family child Care Homes (FCCH) permanent

 

Supporting the recommendations of the "USDA Report to Congress: Reducing Paperwork in the CACFP"

 

Making the area eligibility waiver for At-Risk Afterschool (ARAS) permanent

 

Allowing At-Risk Afterschool to operate year-round

 
An overwhelming majority of survey respondents, 95%, believe that increasing reimbursement rates is a priority. Many reported struggling with the skyrocketing cost of food and supply chain shortages. In a USDA (United States Department of Agriculture) study published in October 2021 regarding CACFP meal costs, the median total cost of food and labor was: $4.19 per breakfast; $4.85 per lunch; and $2.94 per snack (USDA, 2021). These costs far exceed current reimbursement rates. 
The continuation of the area eligibility waiver for Family Child Care Homes, allowing all providers to be paid Tier I rates, is a crucial priority. Many sponsors voiced their concern that should the Tiering system be re-implemented, many of their providers will drop off the program. Additional comments reiterated respondents' desire for the tiering system to end, as it would reduce paperwork, free up staff time, and help retain providers.  
Over 80% of respondents support the recommendations of the "USDA Report to Congress: Reducing Paperwork in the CACFP", which includes a number of strategies to help reduce the paperwork burden and expand access in the CACFP. Providers commented that the increased paperwork requirements, along with insufficient reimbursement, "was not worth it." Both sponsors and providers expressed the need for streamlining program requirements and asking for state agencies to work to find ways to reduce the paperwork requirements. 
A majority of respondents, especially those who reported working in the afterschool space, supported allowing At-Risk Afterschool to operate year-round (92%) and making the area eligibility waiver permanent for ARAS (91%). 
Regarding feedback on the available COVID-19 flexibilities, over 85% of survey respondents reported using at least one COVID-19 waiver. Of those that reported using the COVID-19 flexibilities, most reported them to be useful or critically useful for their operations (91% waiving area eligibility, 88% off-site monitoring, 76% meal-time flexibility, 69% non-congregate feeding, 67% parent/guardian meal pick-up).  
When asked whether they would support making any of the COVID-19 flexibilities permanent, most respondents overwhelmingly supported permanently waiving area eligibility in both Family Child Care Homes (90%) and in At-Risk Afterschool programs (95%). Over half of survey respondents answered that they would like to see off-site monitoring allowed in all circumstances. A majority of respondents answered that they would also support flexibilities for non-congregate feeding (54%) and parent/guardian meal pick up (60%), but only in certain circumstances. 
To ensure the nutrition security and equitable access to nutritious meals and snacks, we must work together to strengthen and streamline the CACFP. The National CACFP Sponsors Association (NCA) urges: 
Congress to make the reimbursement increases and area eligibility waiver for Family Child Care Homes in the Keep Kids Fed Act permanent. 

 

Congress to include vital CACFP policy priorities in Child Nutrition Reauthorization. 

 

USDA to allow off-site monitoring flexibilities. 

 

USDA and State Agencies to streamline paperwork requirements to reduce administrative burden on providers and sponsors.

 
Conclusion
Important feedback was gained from our member survey, which NCA will incorporate into its FY23 & FY24 Advocacy Plan. We recognize that although many flexibilities and financial supports have ended (or will soon end), CACFP sponsors and providers continue to struggle financially. If measures are not put in place to address some of these well documented issues in the program, it is likely that we will see a decline in participation by providers, especially Family Child Care Homes as well as a lack of sponsors to service rural areas and even some States. We can also expect that some sponsors and providers will either go out of business or will close. It is imperative to not only support, but invest in sponsoring organizations and child care providers. The CACFP helps ensure the nutrition security of our nation's most vulnerable population (young children and older adults) and investing in the CACFP assures better health outcomes in the future. 
To learn more about the survey results, read the NCA Member Advocacy Survey Report.