Raising Adventurous Eaters with First Foods
Partnership for a Healthier America & Dr. Yum Project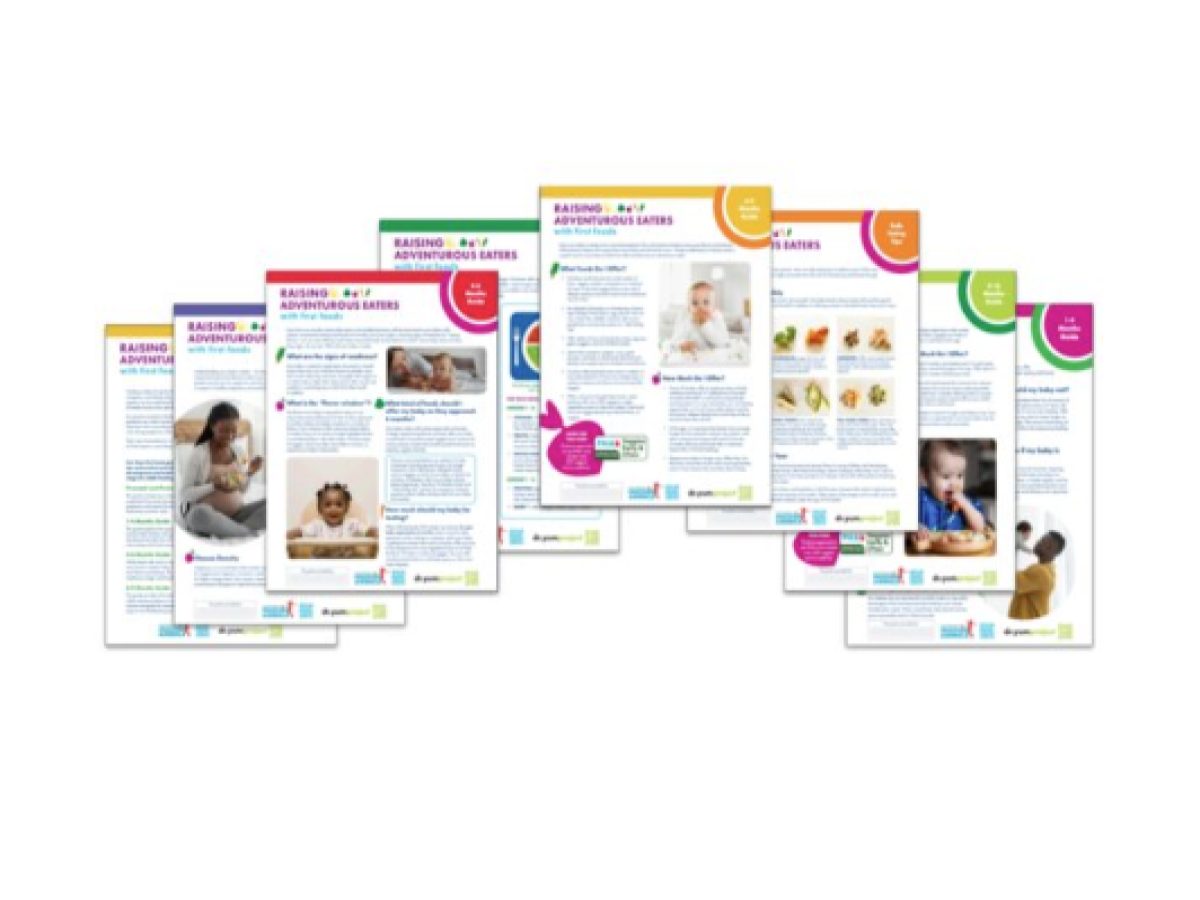 Feeding a baby during the first 1,000 days — from pregnancy to age two — can be an exciting adventure for parents, caregivers, and babies alike. It's a period of development, learning, and bonding. It's also a time when healthy eating patterns can be established for life. As the brain and body are rapidly maturing it's important that babies eat a variety of healthy foods at the right time to get the essential nutrients they need. 
For anyone involved in feeding little ones — whether that's a parent, caregiver, family member, or friend — timely guidance can make it easier to navigate the ups and downs of each child's feeding journey. That's why our partners at Partnership for a Healthier America and the Dr. Yum Project are providing anticipatory guidance on infant feeding and early veggie introduction. 
Prenatal and Postnatal Guide | Guía Prenatal y Posnatal 
This guide includes tips to help parents and caregivers understand how food choices can support a healthy pregnancy and impact the short and long-term health of themselves and their child. 
1-4 Months Guide | Guía de 1 a 4 meses 
This guide explains the responsive feeding model and provides families with guidance on how to boost developmental skills that will be helpful when their child starts eating solid foods around 6 months. 
4-6 Months Guide | Guía de 4-6 meses 
While breast milk and/or iron-fortified formula are still the main food in a baby's diet, it is almost time to introduce new flavors and textures. This guide highlights the signs of readiness to begin solid foods. 
6-9 Months Guide | Guía de 6 a 9 meses 
This guide provides information for families on how to safely introduce babies to a variety of new tastes and textures alongside the important nutrients in breast milk and/or iron-fortified formula. 
9-12 Months Guide | Guía de 9 a 12 meses 
This guide provides tips for families on how to offer a wide variety of textures and flavor combinations by enjoying modified family meals and building self-feeding skills. 
Toddler Guide | Guía de 12-15 meses 
Starting around one year, children may be less hungry and not as interested in foods they once liked. This guide offers toddler feeding tips to create a positive mealtime environment for the whole family. 
Supplemental: Safe Eating Tips | Consejos para una Alimentación Segura 
Use these tips to help make food introduction even more safe for your baby including in-depth information on introducing the top 9 food allergens, ways to serve a variety of foods safely, and more. 
To read through every guide, check out Raising Adventurous Eaters with First Foods Guide, available in English and Spanish.