CACFP Required Annual Training FY2023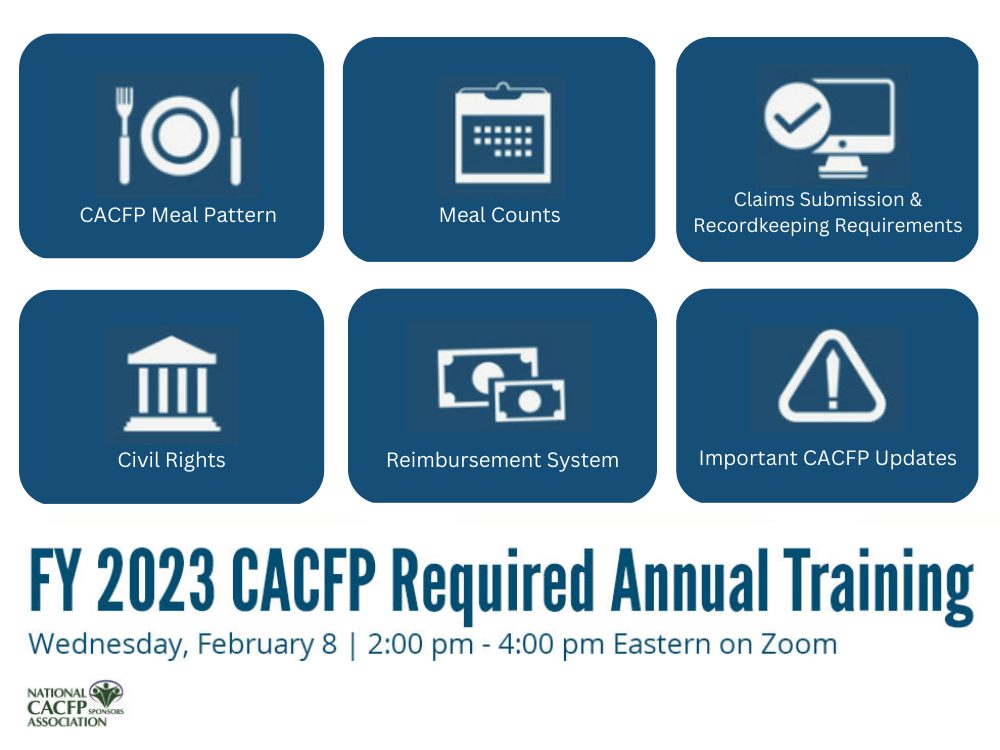 The CACFP plays a vital role in nutrition equity for children and adults in centers and day care homes by providing access to healthful meals. Sponsors and providers are critical for the continued success of this program.
The required annual training in the Child and Adult Care Food Program (CACFP) is a critical component in program participation as it reinforces and ensures compliance with federal regulations and promotes current best practices in food safety and nutrition for program participants.
NCA is proud to have created this two-hour training event as a benefit for CACFP Sponsor members.
The information shared in this session will include the required annual training categories covering CACFP meal pattern, meal counts, claims submission & review procedures, recordkeeping requirements, monitoring requirements, reimbursement system, Civil Rights as well as important updates in the CACFP.
A current CACFP Sponsor Organization membership is required to register. 
Sponsor members can take advantage of our early bird pricing by registering before Friday, February 3rd.
The live event will take place on Wednesday, February 8th from 2:00 PM - 4:00 PM Eastern. Attendees will have the opportunity to watch the on-demand recording until March 8, 2023.
This event is a member benefit we are offering to CACFP Sponsors who are active members of our organization (and their providers/staff). If you have a CACFP Sponsor, please reach out to them and if they are a member with us, they can sign you up for the event.
Interested in learning more about membership with the National CACFP Sponsors Association? Visit us online to learn more about all of the great opportunities, just like this one, that come along with membership.