Sponsoring Organizations Well-Positioned to Apply for WIC Outreach Subgrants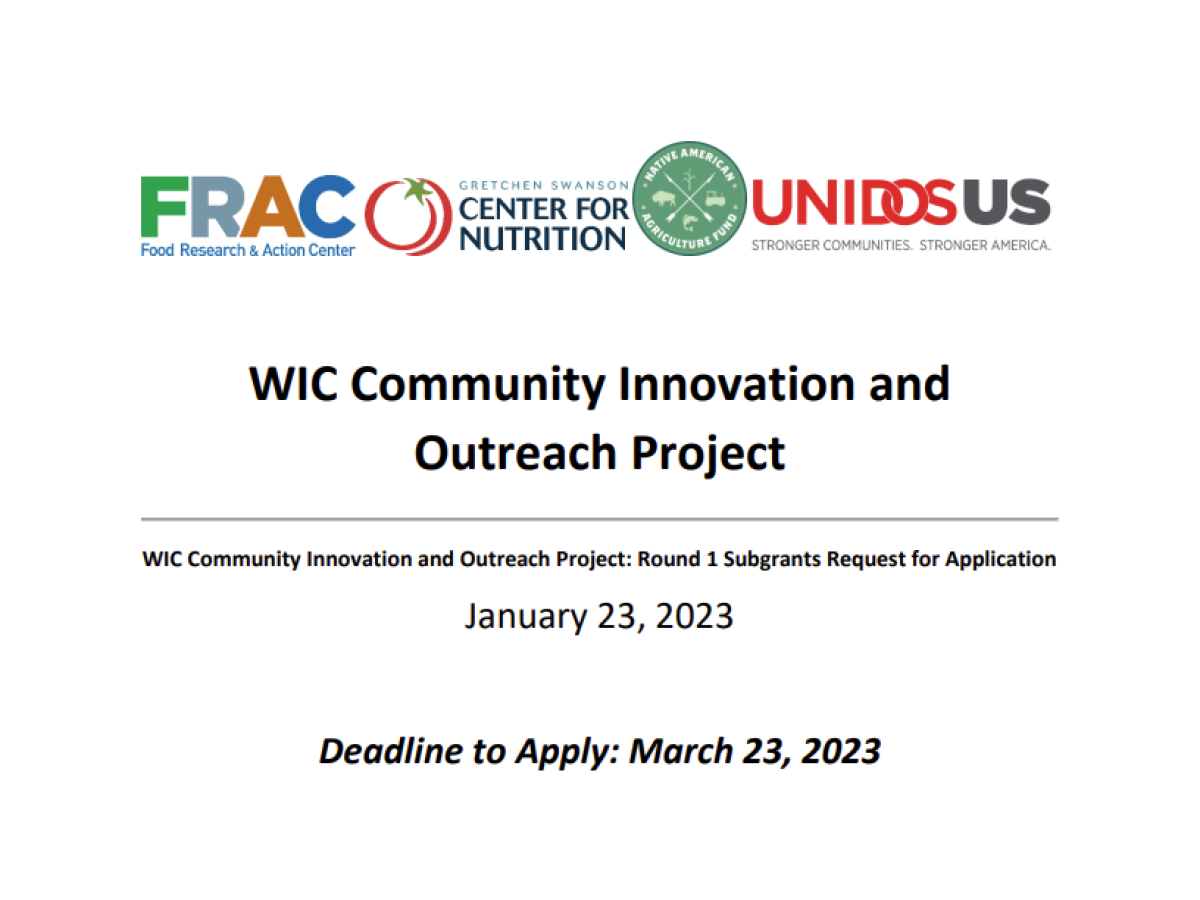 Sponsoring organizations are well placed to do great WIC outreach, as they have large networks of providers with whom they can disseminate WIC information. Providers will then have the information they need to share with the families they serve who may be eligible to participate in WIC. 
The Food Research & Action Center (FRAC), the Gretchen Swanson Center for Nutrition (GSCN), the Native American Agriculture Fund, (NAAF), and UnidosUS announced a Request for Application for subgrants for their WIC Community Innovation and Outreach Project (WIC CIAO). A total of up to $10 million will be awarded in this initial round of funding to help WIC state and local agencies, including Indian Tribal Organizations and nonprofit entities and organizations, to develop, implement, and evaluate innovative outreach strategies to increase WIC awareness, participation, benefit redemption, and reduce disparities in program delivery. Applications are due by 11:59 p.m. EST on March 23, 2023. 
The Special Supplemental Nutrition Program for Women, Infants, and Children (WIC) is a federal nutrition program that provides healthy foods, nutrition education, breastfeeding counseling and support, and health care and social service referrals for pregnant and postpartum individuals, infants, and children up to age 5. The federally funded program has been shown to provide wide-ranging benefits, including longer, safer pregnancies with fewer premature births and infant deaths; improved dietary outcomes for infants and children; improved maternal health; and improved performance at school, among others. In addition to health benefits, WIC participants showed significant savings in health care costs when compared to nonparticipants.   
Despite evidence that WIC contributes to healthy outcomes, only about 50 percent of WIC-eligible individuals participated in the program in 2020.Significant technical assistance will be provided throughout the application process to organizations in underserved communities that may have limited resources and or capacity. Technical assistance will also be provided to all subgrantees throughout the subgrant period.  
How to Apply:
In order to submit a full Application, the following materials need to be completed:
Key application and Project Dates: 
Event
Date & Time
Registration
Webinar: Overview of the WIC CIAO Subgrant RFA
Wednesday, February 1, 2023,

1:00 PM -2:00PM ET

Register Here
Webinar: Subgrant Project Design & Work Plan
Wednesday, February 8, 2023,

1:00 PM -2:00PM ET

Register Here
Letter of Intent due (highly encouraged, but not required to submit full application)
Thursday, February 9, 2023,
Due by 11:59 p.m. ET

-

Webinar: Budget & Personnel
Wednesday, February 15, 2023, 1:00 PM - 2:00 PM ET
Register Here
Office Hour #1
Wednesday, March 1, 2023, 1:00 PM ET
Register Here
Office Hour #2
Wednesday, March 8, 2023, 2:00 PM ET
Register Here
Office Hour #3
Wednesday, March 15, 2023, 3:00 PM ET
Register Here
Application due
Thursday, March 23, 2023,
Due by 11:59 p.m. ET

-

Subgrants awarded
Friday, April 23, 2023

-

Project Start Date
Monday, May 1, 2023

-

Project End Date
Friday, November 1, 2024

-
Interested organizations can learn more about the WIC CIAO funding opportunity and how to apply at https://frac.org/wic-ciao/rfa.  
For application questions or technical assistance, please email wic-ciao@frac.org.