Adding Plant-Based Products to Your Menu
The Humane Society of the United States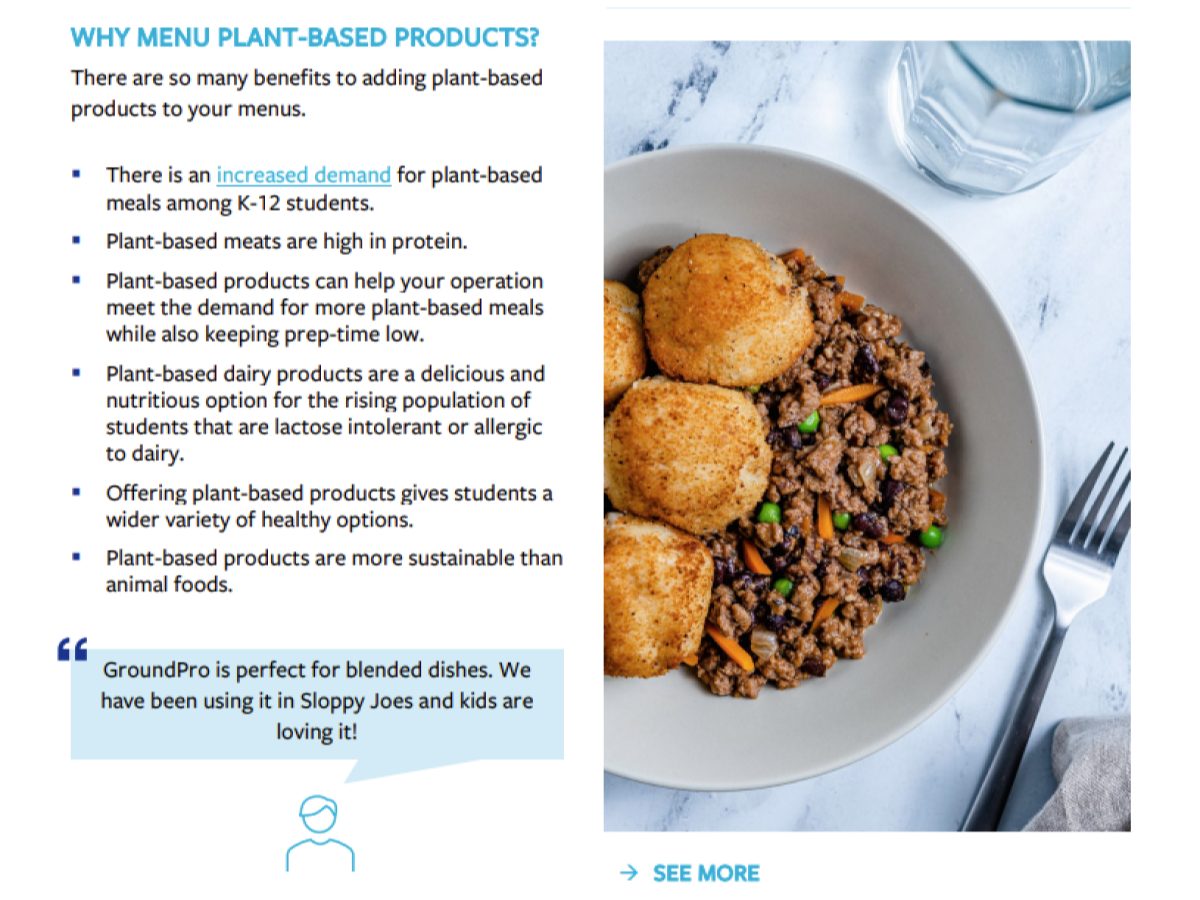 As plant-based products are becoming more popular among school-aged children, consider how you can incorporate them into your menu. Did you know that serving plant-based products can actually save you money while allowing you to provide a greater variety of food to those in your care? Our partners at the Humane Society of the United States have amazing resources to help you add more plant-based options to your menu! 
What are Plant-Based Products?
Plant-based products include prepared plant-based proteins like vegan beef, chicken, pork and egg products; other plant-based proteins like tofu and tempeh; and plant-based dairy products like non-dairy milk and dairy-free cheese. However, it is important to note that only tofu and tempeh are CACFP creditable. 
Why Use Plant-Based Products?
There is an increased demand for plant-based meals among K-12 students.

 

Plant-based meats are high in protein.

 

Plant-based products can help your operation meet the demand for more plant-based meals while also keeping prep-time low.

 

Plant-based dairy products are a delicious and nutritious option for the rising population of students that are lactose intolerant or allergic to dairy.

 

Offering plant-based products gives students a wider variety of healthy options.

Plant-based products are more sustainable than animal foods.

 
How to Incorporate Plant-Based Products in Your Menu
Serve meals that include plant-based products in addition to whole-food plant-based meals that use plant-based protein sources like beans, legumes and hummus.

 

Consider using a combination of legumes and plant-based meat in a recipe to keep protein high and costs low.

 

Serve veggie burgers daily or weekly.

 

Offer plant-based 'chicken' nuggets alongside conventional chicken nuggets. To credit within the CACFP, these products require a Child Nutrition Label or Product Formulation Statement.

 

Incorporate Forward Food's

K-12 recipes

onto your menus regularly.

 

Use plant-based ground 'beef' crumbles to replace the meat in your existing recipes for things like spaghetti, tacos, burritos, chili, etc.

 

Set up a sampling table for new plant-based menu items and give students the opportunity to give their feedback.

 

Offer CN-labeled plant-based milk options (must meet the nutrient equivalent for cow's milk) for students who can't consume dairy.

 

Market your plant-based offerings with helpful, educational and fun signage to get students excited.

 

Focus on naming your plant-based entrée in a way that highlights the flavor and texture of the dish and avoid including words like "vegan," "meatless," "vegetarian" and "meat-free" in the name.

 
For more tips, check out the Humane Society of the United States' flier on Plant-Based Products.