Alliance for a Healthier Generation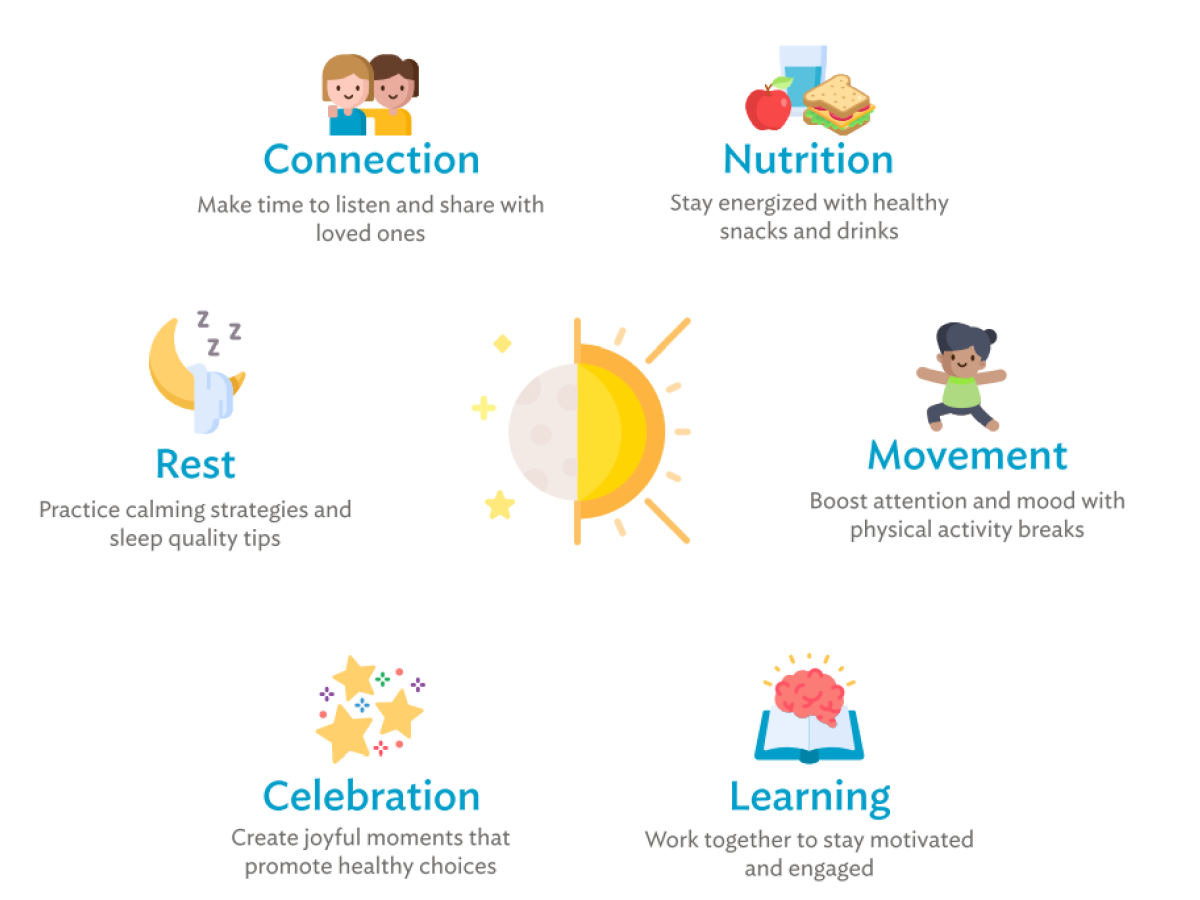 With the start of the new year, many of us are looking to build healthier habits. Our partners at Alliance for a Healthier Generation want to encourage families to create a healthier home life. If you want to help families feel well, live well, and learn well, check out the Healthy Day Toolkit from Alliance for a Healthier Generation! 
Healthy Day Checklist
To support physical, social, and emotional well-being for kids and adults in your care by encouraging these practices with the children and adults in your care and their families.  
Connect: Make time to listen and share with each other. Ask a creative question to start the day.

 

Nutrition: Stay energized with healthy snacks and drinks. Drink plenty of water and eat one fruit or vegetable with every snack or meal.

 

Movement: Boost attention and mood with physical activity breaks. Get at least 60 minutes of physical activity.

 

Learning: Work together to stay motivated and engaged. Plan together to accomplish "must do" tasks like homework or chores.

 

Celebration: Create joyful moments that promote healthy choices. Take a break to focus on what's going well.

 

Rest: Practice calming strategies and sleep quality tips. Reserve at least 9 hours for a great full night of sleep.

 
T

ips for Cooking with Kids and Teens
Preparing their own food can help children and teens learn about nutrition, practice meal planning, get to know other cultures, and build basic math skills. It also encourages creativity and independence. Help families cook safely and confidently with these kid-friendly cooking tips! 
Talk about kitchen safety, such as being careful around hot surfaces and sharp tools. Older children and adults might be able to help younger children with tasks that require more caution.

 

Consider adapted tools and utensils to make the cooking experience enjoyable and inclusive for family and friends.

 

Identify nutritious snacks your kids want to make and keep the ingredients in an easy-to-reach place to encourage healthy snacking. Help them cut or pre-cook ingredients as needed.

 

Have fun! When you have opportunities to cook with your young home "chef," try learning a new recipe, let them pick background music, or share stories from your childhood.

 

Think of each person's hand as a quick estimate for portioning different kinds of foods. For example, a small handful of trail mix or a big handful of veggies. Portion suggestions are a helpful place to start, but keep in mind that portions are unique to each family member and their needs.

 

Keep it simple. Introduce children to snacks they can prepare with little or no adult assistance and snacks that require no preparation.

 
Healthy Snacks Kids

Can

Prepare at Home
Share these kid-friendly snack ideas with families. 
Fresh, frozen, and canned fruits and vegetables are delicious sources of potassium, vitamin C, vitamin A, folate, fiber, and more! 
Veggie Dippers: Dip carrots, celery sticks, and sliced cucumbers in nut or seed butter, plain yogurt, or hummus.

 

Fun Fruit Salad: Cut sliced fruit, like apple, banana, or melon with a small "cookie cutter" in your favorite shape.

 

Garden Gimbap Rolls: Wrap canned or pre-cooked vegetables in roasted seaweed sheets with a pinch of sesame seeds.

 

Crunch Chamoy Treats: Drizzle chamoy over sliced mango or pineapple and sprinkle with unsalted sunflower or pumpkin seeds.

 
Lean meats like turkey and chicken, tofu, tempeh, nuts, whole grains, and beans are high in protein as well as iron, calcium, and other nutrients. 
Three Sisters Quesadillas: Native American farmers teach us that Three Sisters – corn, beans, and squash – help each other grow in harmony. Try all three in a quesadilla!

 

Mini Quick Kabobs: Skewer cubed tofu or cooked lean meat, cheese, and vegetables on toothpicks.

 

Leftovers Lettuce Cups: Fill a lettuce leaf with leftover tofu, beans, or lean meat. Top with salsa, low-fat cheese, kimchi, or your favorite sauce.

 

Nut Butter Bites: Top whole-grain crackers or a sliced banana with about a tablespoon of peanut butter, sunflower butter, or tahini.

 
In this blog, we've highlighted the nutrition aspects for having a healthy day. For more tips on connection, movement, learning, celebration, and rest, check out Alliance for a Healthier Generation's Healthy Day Toolkit!