Activity Inspiration: Car Show
Has low energy or the hum-drums been pumping the breaks on your activity time? Rev up the fun with this Car Show game!
What you'll need
Youngsters, ready to roll
Painter's tape or sidewalk chalk
How to play
Tape the carpet or chalk the sidewalk with a racetrack for the kids to navigate. As they pretend to drive cars, ask them to show you they can follow directions. Can they drive slow, fast, or medium? Make a quick stop or speed up? Reverse and park? Because everyone likes to be a leader, let kids take turns calling out directions too!
Extend the fun
Was your car show a big hit? Extend the fun with a car-themed craft and picture book!
Driving designs craft: Have your kids squirt a few different paint colors onto a piece of card stock and then seal it inside a plastic bag. Next, using a favorite toy car to drive over the card stock, let your kids create a one-of-a-kind design! Remove from bag and hang to dry.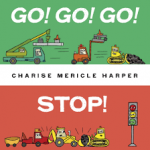 Go! Go! Go! Stop! By Charise Mericle Harper
One day Little Green rolls into town and says his first word: "Go!" The town is building a bridge, and now everyone has a job to do, from dump truck to forklift. Little Green helps them do their jobs with gusto. Until . . . there is a little too much gusto. They can go, go, go . . . but how will they stop? (from the publisher)
Did you know activities and crafts like this come standard with our Nutrition Calendar and Training Program? It's just one of many benefits of being a member of the National CACFP Sponsors Association. We want to see your kiddie-car-show! Send us updates on social media @NationalCACFP or email us at nca@cacfp.org.