Survey Review: 2021 National Farm to Early Care and Education Survey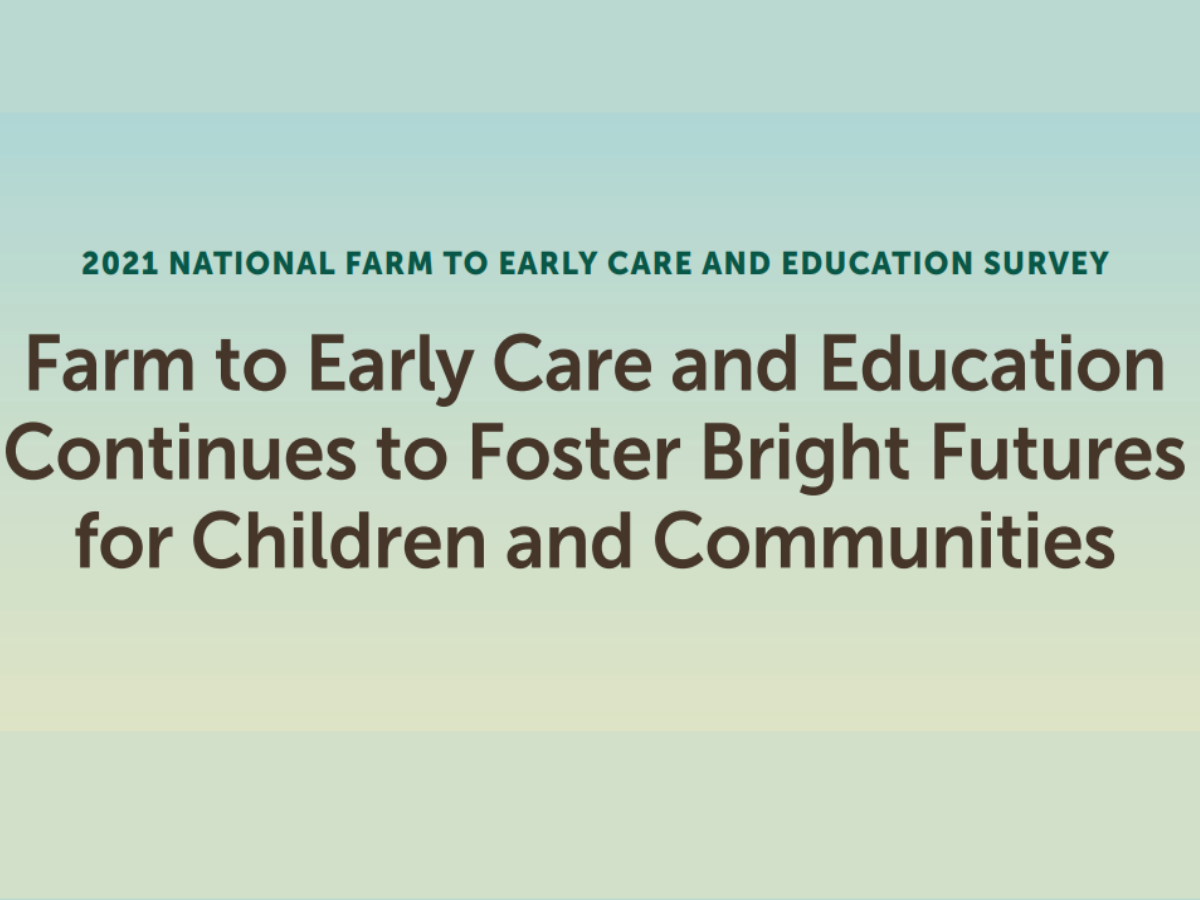 Farm to Early Care and Education Continues to Foster Bright Futures for Children and Communities
This is a broad overview of the newly published findings of the 2021 study conducted by the National Farm to School Network and Michigan State University's Center for Regional Food Systems. Read the complete report for an in-depth look at their findings.
Overview and context
In 2021, National Farm to School Network (NFSN) partnered with Michigan State University Center for Regional Food Systems (CRFS) to launch a fourth iteration of the National Farm to ECE Survey. Using the seven USDA regions as a guide, 28 states were chosen, with four from each region. In total, 2,914 programs responded to the survey, for about a 3% response rate.
Approximately 82% of respondents indicated that they participate in farm to ECE, and 14% say they plan to in the future. There was a sharp racial disparity amongst sites that participate and don't participate in farm to ECE, with schools with predominantly white enrollees more likely to participate and schools with predominantly Black enrollees much less likely to participate. Further, there was a negative correlation between the percentage of children who received free lunch at a site and the likelihood of participation in farm to ECE activities.
The most common curriculum used was one developed by the ECE site themselves (41%), followed by United States Department of Agriculture's (USDA) "Grow It, Try It, Like It!" (14%) and curriculum developed by the respondent's state (9%).  The most frequent activity farm to ECE participants engaged in was educating children about locally grown food, how food grows, and/or where food comes from (71%). The next most common activities were planting a garden or working with children in an edible garden on-site (65%) and serving locally grown food in meals, snacks, or taste tests (65%).
Local procurement and farm to ECE
An interesting finding in the survey was that, of respondents participating in farm to ECE, 1,628 (68%) purchase and serve local foods for their site's meals, snacks, or activities. Respondents estimated that an average of 30% of their total foods purchased were locally grown or produced. More interestingly, in the study, 47% of sites that receive CACFP funding purchased local foods. However, only 2% of respondents participating in farm to ECE received reimbursement for locally sourced foods in addition to CACFP reimbursement, such as local food incentive or additional grant funding.
Local purchasing supports small farms while providing wholesome foods to children, staff, and families. Purchasing and consuming local foods can further promote fruit and vegetable consumption as local products are often fresher, of high quality, and described as better tasting than non-local foods. Farm to ECE, including local procurement, can benefit families by increasing families' access to local foods. Engaging families can also increase their knowledge of local food sources and connect them with farmers and other local vendors. This also benefits farmers by helping them build their customer base.
Barriers to participation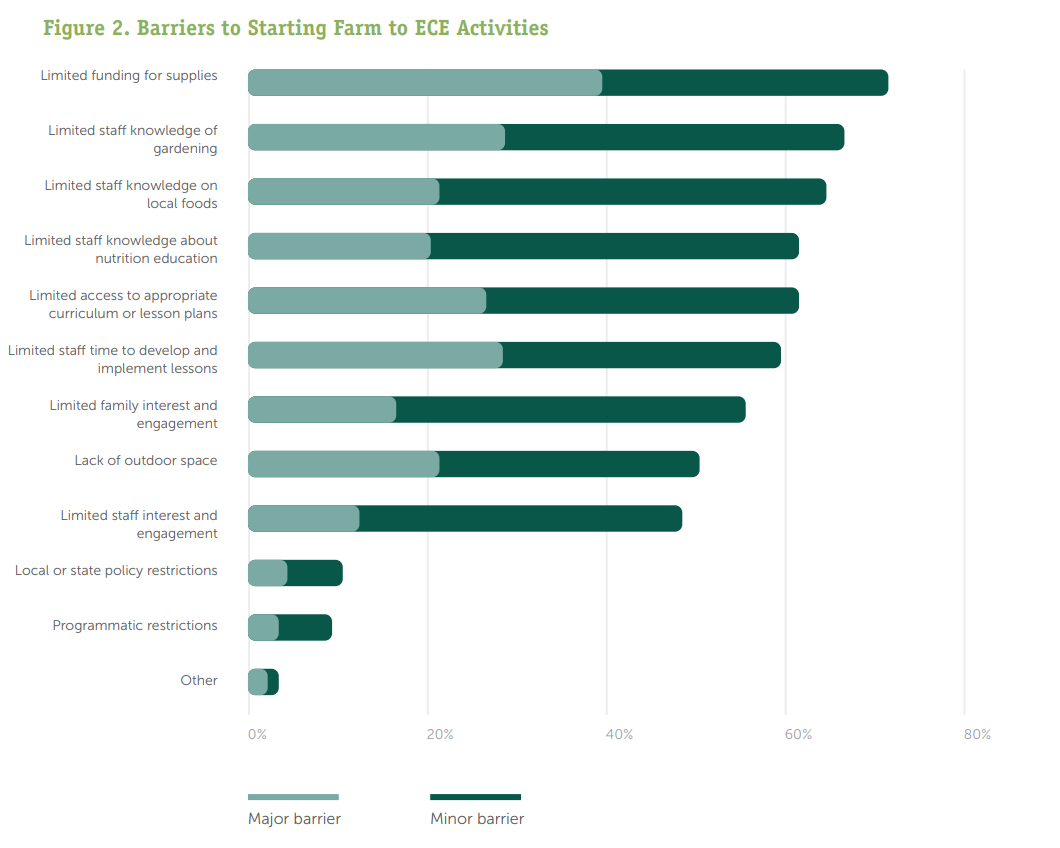 A primary reason that some programs have not engaged in farm to ECE activities is funding and access to supplies. Limited funding for supplies was the top barrier to both starting (71%) and continuing (59%) farm to ECE activities. Other barriers to both starting and continuing farm to ECE activities included limited staff knowledge on local foods (64% and 46%), limited access to appropriate curriculum or lesson plans (61% and 49%), and limited staff knowledge of gardening (66% and 49%).
Most respondents participating in farm to ECE have not received external funding for their farm to ECE activities (82%). However, of the 11% who did receive external funding, 31% received funding from the state and 13% from federal sources.
There is a greater need for funding, both federal and state, in order to increase participation in farm to ECE programs. However, there is some evidence that constraints associated with federal funding has inhibited the types of farm to ECE activities a program can participate in as well as the variety of programs they can participate in, with the study showing that those programs that received federal funding participated in .8 less farm to ECE activities than those that did not. "Access to funding is imperative to the equitable growth of farm to ECE, but if accessing funding requires technical skills and equipment or large reporting requirements, it runs the risk of both inhibiting the work the funding intends to assist with and reducing accessibility to those without the necessary resources and skills required."
A secondary barrier to participation is staff knowledge and buy-in. Only around half of survey respondents reported positive feedback from ECE staff and ECE administration on beginning a farm to ECE program. Gaining staff and administrative support is key to building sustainable and comprehensive farm to ECE programming. Some expressed concern about lacking critical knowledge and experience, while others were concerned about staff time, commitment, and general capacity. Pre-made curricula can increase provider capacity and knowledge around farm to ECE topics, reducing barriers to participation.
 Integrating farm to ECE in the CACFP
A major cornerstone of the surveys recommendations include increasing the integration of farm to school initiatives into the CACFP. Specifically the survey suggests the following:
Integrate farm to ECE opportunities into the Child and Adult Care Food Program that reach high proportions of children eligible for free/ reduced price meals.
Promote CACFP participation and address CACFP barriers to ensure equitable reach.
Utilize CACFP participation as a pathway to farm to ECE. Integrate farm to ECE into CACFP "train the trainer" and professional development practices, highlighting CACFP and farm to ECE crossover, especially within QRIS systems and local food reimbursement.
Build farm to ECE into CACFP systems by integrating farm to ECE in CACFP administrative roles and include CACFP in local food incentive programs.
Spread awareness of farm to ECE and leverage farm to ECE's contribution to high quality ECE settings by:

Including farm to ECE language into Quality Rating and Improvement Systems (QRIS), licensing standards, and CACFP trainings and communications.
Including farm to ECE trainings in continuing education systems and build farm to ECE trainings for coaches to further promote implementation and reduce knowledge barriers.

Support CACFP flexibilities and expanded eligibility through Child Nutrition Reauthorization to expand CACFP participation, equity, and food access.
Conclusion
The findings of this survey reflect our own education and advocacy work here at NCA. We have numerous on-demand trainings available on gardening and local procurement, and more to come at our 2023 National Child Nutrition Conference. Furthermore, we are advocating for the advancement of local procurement and farm to table options as part of our policy initiatives with the White House's Conference on Hunger, Nutrition and Health.