Member Resources: Meal Component Activity Pages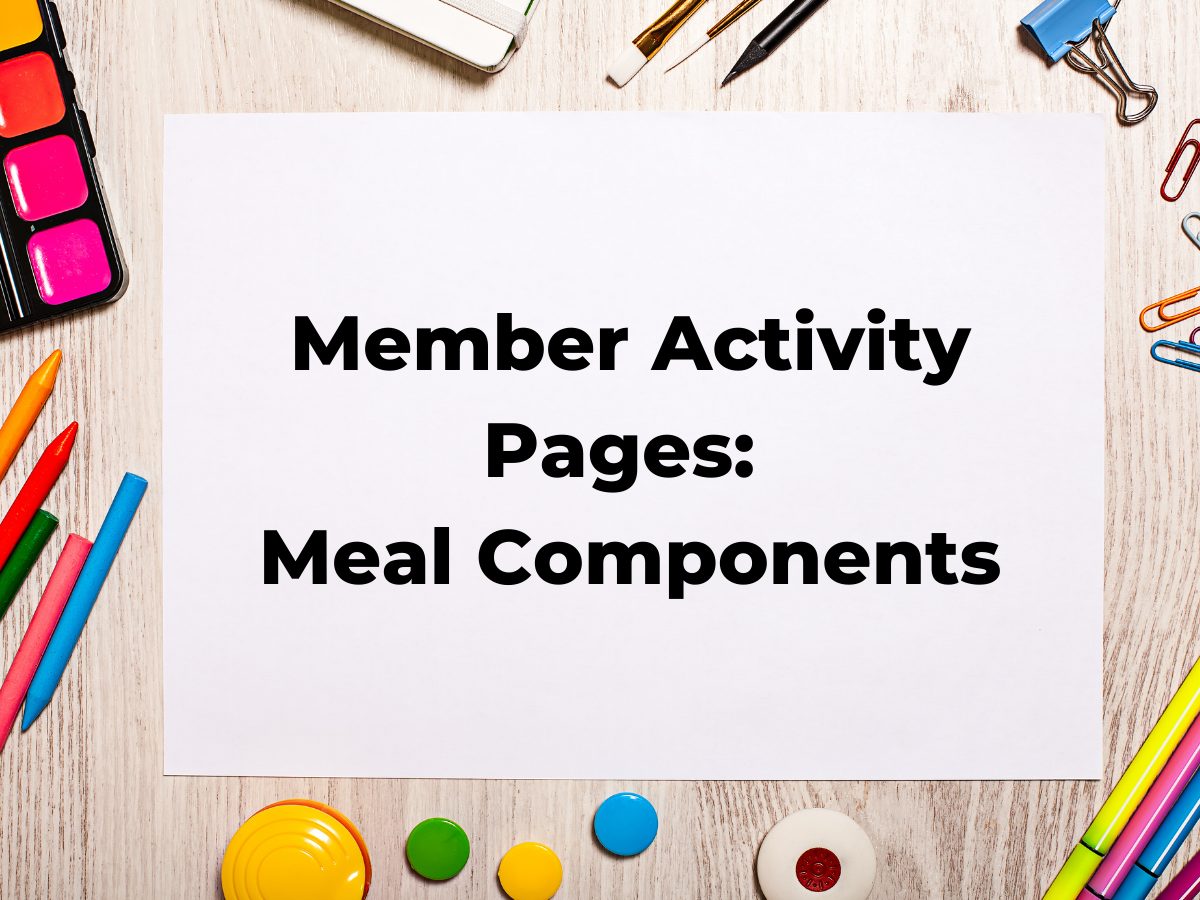 Members of the National CACFP Sponsors Association enjoy many benefits. Among those is access to a wide variety of resources, including activity pages that feature recipes, games, crafts, book recommendations and more. Here are our five meal component activity pages: Fruit, Grains, Meat/Meat Alternate, Milk and Vegetables:
Activity Pages
Fruit: In the fruit component activity page, participants will learn that Fruits provide important nutrients such as Vitamin C, Vitamin A, potassium, fiber, and folic acid. They can also reduce the risk of heart disease and stroke. Fruits are a convenient anytime snack and can be eaten in any form – fresh, frozen, canned, and dried. There are so many different varieties – the possibilities are endless! This activity page also includes a song about fruit and a fruit basket craft!
Grains: In the grains component activity page, participants will learn that the grains group includes foods made from wheat, rice, barley, cornmeal, and oats. The CACFP Meal Patterns focus on Whole Grain-Rich (WGR) foods meaning the food contains at least 50% whole grains and the remaining grains are enriched or 100% whole grain. When a grain is considered a whole grain the entire grain kernel is used in the product versus enriched grain where the outside of the kernel is removed to make the product. Whole grains provide the body with essential vitamins and minerals, along with fiber and digestive fiber. This printable includes a sensory activity using wheat berries, rice, and oats!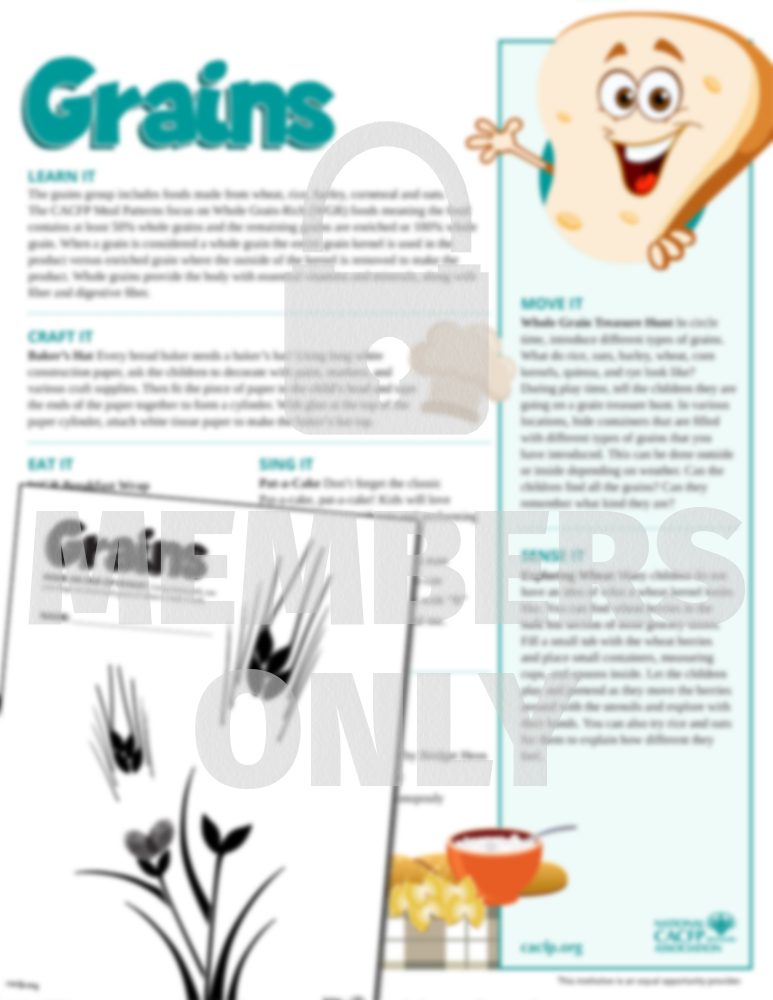 Meat/Meat Alternate: In the meat/meat alternate component activity page, participants will learn that The meat and meat alternate group is made up of lean meats, poultry, seafood, eggs, tofu, nuts, seeds, legumes and beans. With the exception of water, protein is the main component of our muscles, bones, and organs. A diet rich in protein helps to builds and maintain the tissues of our body. While it is important to consume enough protein, we must also ensure that it is lean and low in saturated fats and cholesterol. The meat/meat alternate printable has a strength exercise game that's sure to keep young bodies active and entertained!
Milk: In the milk component activity page participants will learn that milk actually provides NINE essential nutrients in one 8 oz serving: protein, calcium, riboflavin, phosphorous, vitamin D, vitamin B, potassium, vitamin A and niacin. Together these nutrients help build strong bones and teeth, promote good vision and healthy skin, and provides many other health benefits. Check out the adorable book recommendations on this activity page!
Vegetables: In the vegetable component activity page participants will learn that vegetables are a key component in a healthy diet and help our bodies grow big and strong. They can be eaten in a variety of ways–fresh, canned, frozen, baked, sautéed, or roasted. They are an important part of a healthy diet and provide our bodies with vitamins and minerals such as potassium, folic acid, Vitamin A, Vitamin C, and dietary fiber. We especially love the tasty recipe included on this downloadable page.
Looking for access to our members-only resources? NCA members enjoy access to these resources and many others as part of their annual membership. NCA members receive many benefits, including the following:
Member Info Hub & Networking Forums
Child Nutrition Today Digital Magazine
Holiday Activity Pages & Resources
National CACFP Week Member Materials
Training Materials & Guides
Nutrition Education Flyers
Personal 2022 CACFP Nutrition Calendar
CACFP Nutrition Calendar Training Program Access
Parent Provider Monthly Newsletter Templates
Motivation Moment Poster Series
Monthly Activity Pages
Five-Hour Training Module
Discount to National Child Nutrition Conference
Ability to post to our Job Opportunities page
Policy & Regulation Updates & Call to Action
Advocacy in Washington, D.C.