Celebrate National Fruits & Veggies Month
Have a Plant-Produce for a Better Health Foundation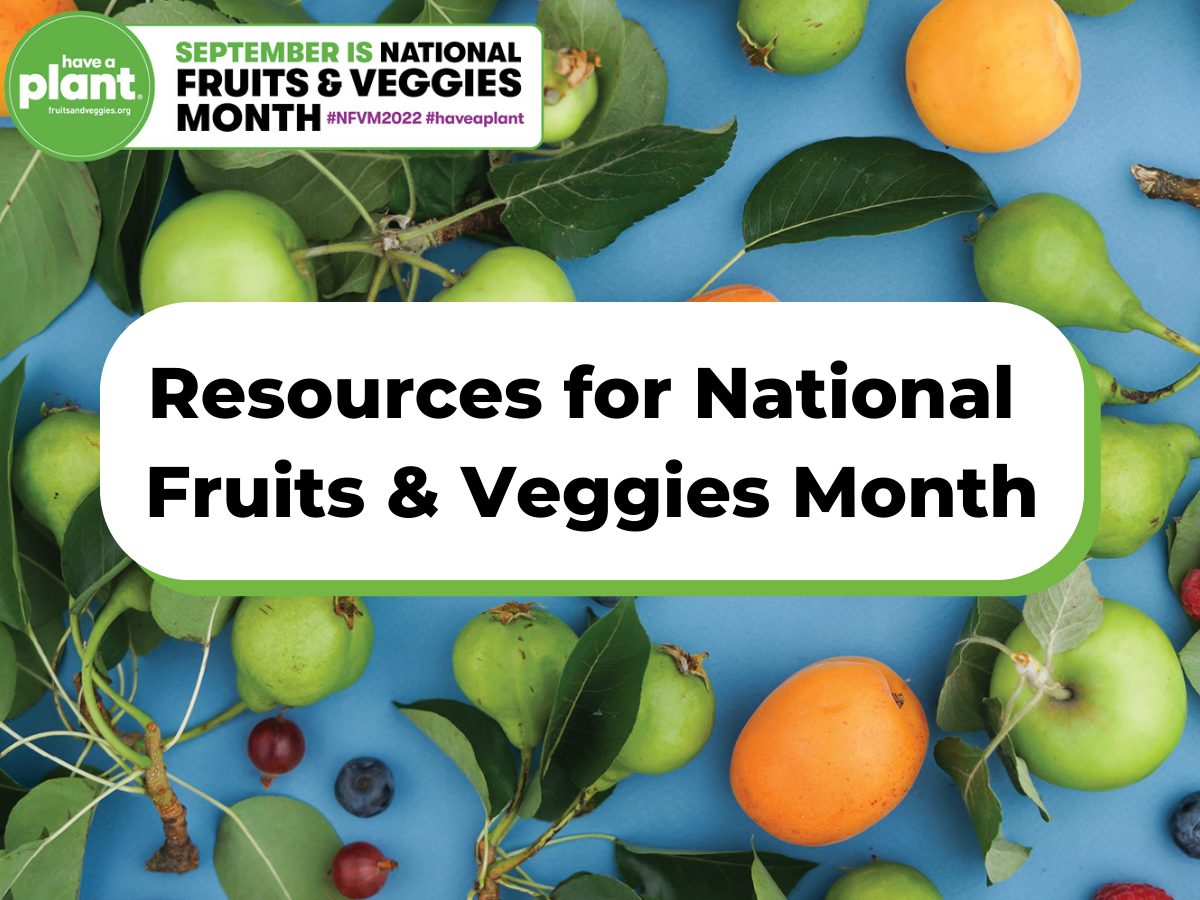 September is National Fruits & Veggies Month. Our friends at Have A Plant - Produce for a Better Health Foundation have created a National Fruits and Veggies Month toolkit to celebrate all month long.
National Fruits & Veggies Month offers an opportunity for everyone to celebrate all the goodness of fruits and veggies bring to our tables, our minds, our souls, and our health and happiness. Check out the toolkit to discover ways you can celebrate in your community.
Some strategies to celebrate National Fruits & Veggies Month include:
Share The Facts
Share fun facts and quick stats on the importance of consuming more fruits and vegetables now, and throughout the year, like how to best select, store, savor, and share your favorite vegetable or fruit.
Show Off Your Skills
Show off your skills by sharing your fruit and veggie creations on social media. Whether it's the sizzling of the veggies in a skillet, or the result of a beautifully plated fruit salad or pasta dish loaded with veggies, bring your favorite fruit and vegetable recipes to life. Show how easy it can be and share why you like it, "I love to add crushed red pepper flakes to mine for added spice".
Start a Challenge
Set up a blind taste test! Jump on the viral trend and set up a blind taste test for your friends using familiar and new fruits and veggies.
What are your grocery shopping staples? Do you have 5-10 items you always buy when shopping? Get creative and see how many ways you can combine, mix, and match all your staples. Share with your followers and challenge them to do the same!
Eating with others fosters connections, provides an opportunity for deeper conversation, and encourages food exploration. Encourage followers to add one more fruit or veg to their weekly (or daily) family (or friend family) meal routine! #squadgoals
Create a new fruit and veggie habit! Think about a routine you already do relate to meal or snack time – maybe it's buying weekly staples, having Taco Tuesday dinners, or taking an afternoon break. See where you can add fruits and veggies into it.
What is your best fruit or veggie hack? Do you have a mind-blowing hack that you need others to know about?! Get the conversation going with your followers and share everyone's best tips!
Share on Social Media
On your own social media channels, or from your company's, share recipes, tips, and stories of incorporating fruits and vegetables in your meals
Get Creative on Social Media
To access the full Toolkit, check out Celebrating National Fruit & Veggies Month.