Field Guide for SFSP Operators
Below is a directory of resources for the Summer Food Service Program. Each link highlighted in this guide is a complete, downloadable, PDF resource with detailed information about SFSP operations. Interspersed in this guide are tips, tricks, and few fun ideas. If you don't find what you're looking for below, email us at nca@cacfp.org.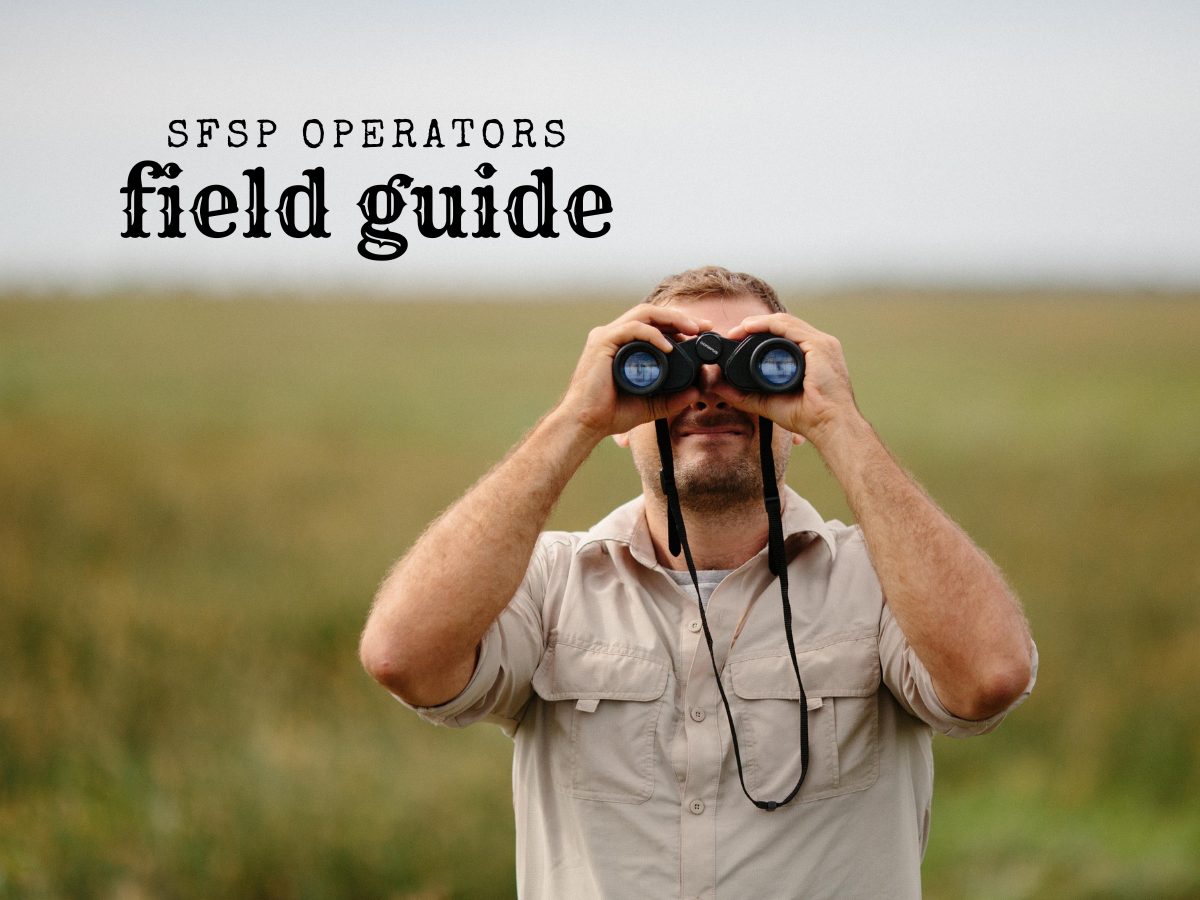 Founded in 1968, the Summer Food Service Program is a federal program for local sponsors to provide summer meals to kids and teens in low-income areas. Sponsors contract with state agencies in order to administer the SFSP. Sponsors can include camps, churches, nonprofit organizations, and even local government agencies, such as parks and recreation departments. Those sponsoring organizations then distribute meals at community sites. Sites may be located in a variety of settings, including schools, community centers, parks, clinics, hospitals, churches, apartment complexes and more. Sites work directly with sponsors.
If you're looking for more basic information, check out the SFSP Fact Sheet. The SFSP Fact Sheet (English) is a USDA resource that provides fast facts about the program. It links to several explanatory videos as well as a directory to state agencies who administer the SFSP. This fact sheet is also available in Spanish.
SFSP Nuts and Bolts
So, you're a site supervisor, or thinking of bringing the SFSP to your organization? There are many SFSP Do's and Don'ts. Site supervisors are responsible for ensuring that SFSP meal service sites are cleaned before and after each meal, that meals and meal components are accurately counted at the point of service, and that children continue to attend meal services.
Accurate meal counting and claiming for SFSP meals is another consideration. For example, meal counts for the SFSP must be taken at the point of service, and adult meals must be recorded separately (and excluded from) the primary count. Pandemic-era waivers and flexibilities have drastically changed many of the meal service procedures for SFSP, and the introduction of the Keep Kids Fed Act has extended those summer waivers. SFSP supervisors must stay up to date on current expectations for on-site versus off-site meals, grab-and-go options and counting and claiming.
Meal Pattern and Nutrition
The USDA's SFSP Nutrition Guide is the one-stop manual for all things SFSP meal-pattern, menu planning and nutrition related. This 122-page manual covers, in granular detail, the ins-and-outs of serving creditable meals in your summer program.
Happy and hydrating
A key component to a successful Summer Food Service Program is good attendance. Unlike in the CACFP or in school lunch programs in which participants would already be in attendance, SFSP operators often need to promote their sites or otherwise incentivize participation. One thing to keep in mind is that many SFSP participants actually walk to their meal site. Offering refreshing water-bottle refill stations is a good idea for hydration, but also to encourage participants to want to return.
How about infused waters? Offering chilled water coolers with sliced fruits, veggies and herbs will keep participants cool and pique their curiosity for fresh flavors. Try cucumber-mint and strawberry-pineapple for classic favorites. Mix it up with watermelon-lime or pineapple-coconut. To make infused waters, simply slice fresh fruits, vegetables and herbs and add them to ice water. Don't add any sugar, sweeteners or other additives.
Activities are another great option for encouraging attendance. Our activity blog is packed with games that can be scaled up or down for different ages and group sizes. Have fun!
Next, think about incorporating a story book circle. Invite staff, parents or even community members to read story books in a shady spot before or after mealtime. Regular reading can help prevent summer brain drain, and it's a wonderful way to connect with participants! Here are a few of our summer-themed favorites:
Summer Color by Diana Murray
Llama Llama Sand and Sun by Anna Dewdney
A House for Hermit Crab by Eric Carle
Pete the Cat: Pete at the Beach by James Dean
Ice Cream Summer by Peter Sis
Sun by Sam Usher
How to Catch a Mermaid by Adam Wallace
SFSP Grab-and-Go Activities!
Finally, offering grab-and-go activities for participants to take home can have many benefits. Activities can be playful, educational, brief or in-depth. Perhaps a site will send home projects on Fridays, or coloring pages every day. No matter how you do it, connecting your feeding site with a fun take-home will encourage participation in your summer nutrition program.
If you're a site supervisor, you may even consider working with area teachers or school districts to collaborate on books, activities and art projects that are specific to the needs of the kids you serve can be a wonderful way to link up with the community. Here are a few easy printable activities from our site that are well suited for grab-and-go!
 Additional SFSP resources:
Didn't find what you needed here? Here are a few more links for SFSP resources. You can also email us at nca@cacfp.org with questions!