Independence Day Resources and Ideas for CACFP Childcare Sites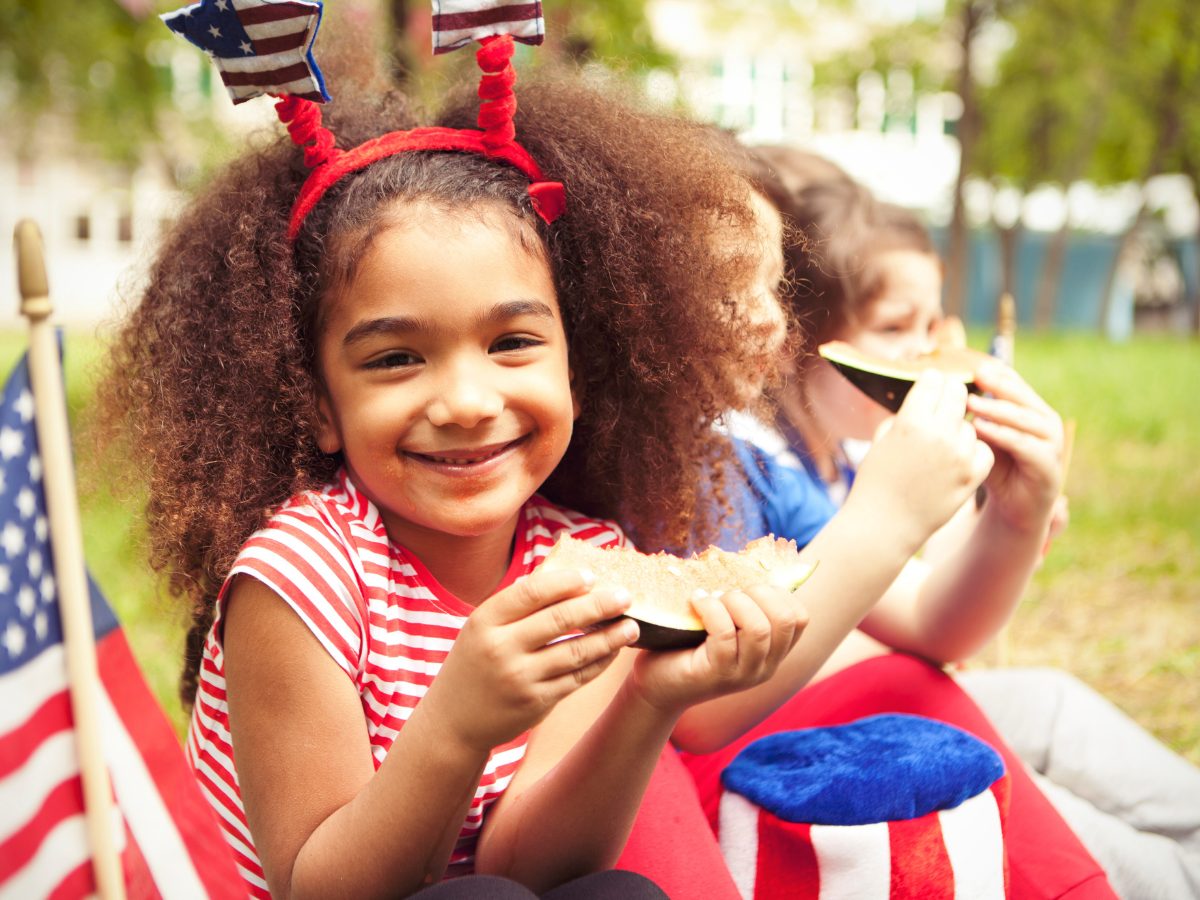 Independence Day celebrations often include fireworks, parades and family trips. It may seem daunting to incorporate this holiday in your CACFP childcare site, but it's easier than you think. In fact, with just a little planning, 4th of July at your CACFP site can be a blast. Check out these resources and ideas to get the party started.  
Independence Day Childcare Activities
Fourth of July activities for children can be as simple as swapping out the playdough in your sensory station for red, white and blue alternatives. Kids can also write notes and draw pictures for military service members, and nonprofits like A Million Thanks can ensure they get sent overseas. How about a song? Here are two themed numbers set to tunes children may already be familiar with: 
Fireworks in the Sky
(Tune: Row, Row, Row Your Boat) 
Boom, crack, whistle, pop! 
Fireworks in the sky. 
See them lighting up the night, 
On the Fourth of July. 
Red, blue, gold, and green, 
With fireworks we say, 
Happy Birthday, America, 
It's Independence Day! 
On Independence Day
(Tune: Mary Had a Little Lamb) 
Fireworks go snap, snap, snap! 
Crack, crack, crack! 
Zap, zap, zap! 
Fireworks make me clap, clap, clap 
On Independence Day! 
Looking for a downloadable? Check out these resources:  
The Happy Summer Activity Page is not themed specifically for Independence Day. However, the craft idea, water movement games, and recipe are the perfect addition to a 4th of July celebration.  
Independence Day (Members Only) 
Our Independence Day Activity Page includes a 4th of July craft, a CACFP creditable coleslaw recipe, and more! This resource will require a login and is available for members only.  
Pinwheel Template (Members Only) 
This Pinwheel Template is the perfect craft to make red, white, and blue decorations at your CACFP site for Independence Day! It's a members-only resource and will require a login to download.  
Independence Day CACFP Snacks
Our recommendations for CACFP creditable 4th of July snacks are pretty straightforward: keep it fresh and summery! Here are two quick recipes that are perfect for hot days, feature summer fruits, and are on theme with red colors!  
4th of July Books
Here are our 4th of July picture book recommendations for CACFP childcare sites! There is a huge variety of storybooks available on this topic, ranging from the historical to the poetic. This is a small sample of what's available, and this list focuses on titles that are appropriate for ages 3 to 7.  
The Night Before the Fourth of July

by Natasha Winter

 

Blue Sky White Stars

by Sarvinder Naberhaus

 

F is for Flag

by Wendy Cheyette Lewison

 

Hats off for the Fourth of July

by Harriet Ziefert

 

Red, White and Boom

by Lee Wardlaw 

 
---
From songs to snacks to storybooks, we hope this Independence Day resource collection has what you need to plan a fantastic celebration for your CACFP participants. Looking for access to our members-only resources? NCA members enjoy access to this resource and many others as part of their annual membership. NCA members receive many benefits, including the following: 
Member Info Hub & Networking Forums

 

Child Nutrition Today

 Digital Magazine

 

Holiday Activity Pages & Resources

 

National CACFP Week Member Materials

 

Training Materials & Guides

 
Nutrition Education Flyers

 

Personal 2022 CACFP Nutrition Calendar

 

CACFP Nutrition Calendar Training Program Access

 

Parent Provider Monthly Newsletter Templates

 

Motivation Moment Poster Series

 

Monthly Activity Pages

Five-Hour Training Module

 

Discount to National Child Nutrition Conference

 

Ability to post to our Job Opportunities page

 

Policy & Regulation Updates & Call to Action

 

Advocacy in Washington, D.C.