Happy 11th Birthday MyPlate!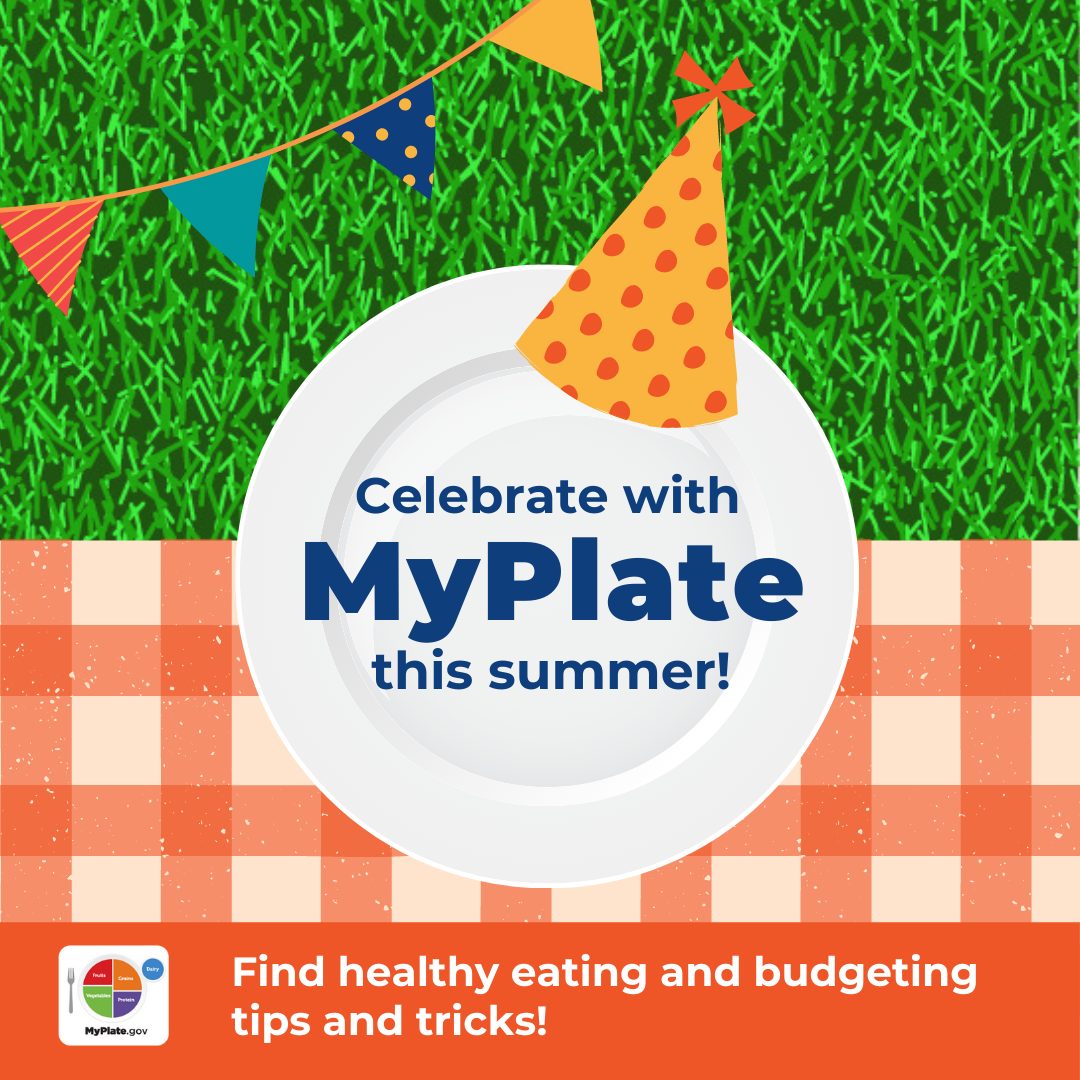 MyPlate turns 11 on June 2nd. Join us in celebrating MyPlate all month long. You can find shareable graphics and fun ways to celebrate MyPlate. Discover healthy eating and budget savvy tips and tricks and/or check out 11 ways to get involved this summer. Visit MyPlate.gov/Birthday and check out #MyPlateBirthday on social media where you can follow along as they highlight 11 ways for you to get involved in this summertime celebration. Some of the fun activities include discovering MyPlate icons available in 22 languages, learning how to use MyPlate on the Alexa app and downloading resources for every stage of life.  
About My Plate
For 11 years, MyPlate has been providing resources to improve nutrition and supporting overall well-being for all Americans.  
MyPlate knows the benefits of healthy eating add up over time, bite by bite, and that small changes matter.
Start Simple with MyPlate:
Make half your plate fruits and vegetables: focus on whole fruits.
Make half your plate fruits and vegetables: vary your veggies.
Make half your grains whole grains.
Vary your protein routine.
Move to low-fat or fat-free dairy milk or yogurt (dairy-free or fortified soy versions).
Also available is MyPlate Kitchen which provides recipes and resources to lactose support building healthy and budget-friendly meals.
MyPlate Kitchen features are designed to encourage key behaviors emphasized in the Dietary Guidelines for Americans and include the following:
Detailed nutrition analysis provided on recipes to help consumers choose recipes that meet nutrition goals
Comprehensive search filters such as program area, equipment, cuisine as well as nutrition-related messages to help users find recipes according to personal interest
Cost ranges for recipes as available
User-friendly options such as star ratings and sharing on social media
A personal cookbook builder
Get started by visiting MyPlate Kitchen today.
#MyPlateBirthday