Baby your baby with homemade food
Why make your own baby food?
You may be wondering if this is a great fit for you, and admittedly, it may not be for everyone. However, there are several benefits to making your own baby food. Here are a few:
You control exactly what goes into your baby.
You can use fruits and vegetables that your family is already eating, reducing waste.
It can save money!
Want to try making your own baby food?
It's not as hard as you think. This NCA member resource on homemade baby puree guides you through different preparation options and texture considerations. Critically, this resource includes details about safe storage of homemade baby food. Without shelf-stabilizing preservatives, it's important to be mindful of how long you can keep your baby's homemade meals on hand. Best of all? This resource includes two creative recipes for baby-friendly purees that we think your little one will love.
Need access to this sheet?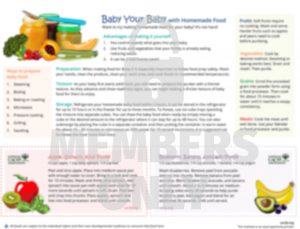 NCA members enjoy access to this resource and many others as part of their annual membership. NCA members receive many benefits, including the following:
Member Info Hub & Networking Forums
Child Nutrition Today Digital Magazine
Holiday Activity Pages & Resources
National CACFP Week Member Materials
Training Materials & Guides
Nutrition Education Flyers
Personal 2022 CACFP Nutrition Calendar
CACFP Nutrition Calendar Training Program Access

Parent Provider Monthly Newsletter Templates
Motivation Moment Poster Series
Monthly Activity Pages
Five-Hour Training Module

Discount to National Child Nutrition Conference
Ability to post to our Job Opportunities page
Policy & Regulation Updates & Call to Action
Advocacy in Washington, D.C.