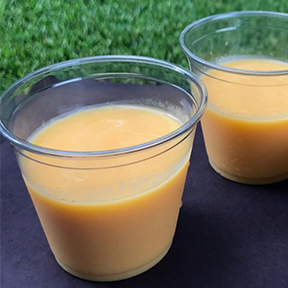 2 cups peach yogurt
1 1/2 cups pineapple juice
23.5 oz. jar mandarin oranges, in 100% juice
Open mandarin oranges and pour entire jar into a freezer-safe pan, with oranges in a single layer. Place in freezer until frozen.
Once frozen, remove the oranges and place them in a blender with the pineapple juice and yogurt. Blend on high until smooth.
Serve immediately as a frosty smoothie, or let it sit for five minutes before serving.